Friday, June 17, 2011

Most Cupcakes on a Display Tower: Barrington sets world record (Video)

BARRINGTON, IL, USA -- Barrington's Relay for Life event held at Barrington High School, drew thousands of people, including cancer survivors, supporters and others honoring those who lost lives to cancer; the event featured a cupcake tower which had 16,478 cupcakes , setting the world record for the Most Cupcakes on a Display Tower while raising funds for the American Cancer Society's Illinois division.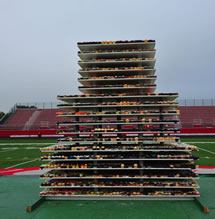 Photo: Cupcake Display Tower in the center of the Barrington High School Community Stadium. Photo: Dr. Alan Dalessandro (enlarge photo)

The Guinness world record for the longest ice cream dessert was set by a sundae measuring 39.77 m (130 ft 6 in) prepared by The Kids Club (USA) in Brunswick, Georgia, USA.

Guinness World Records also recognized The largest eccles cake: it weighed 56.2 kg (123 lb 14 oz) and was made by Martins Foods (UK) for the Salford Food and Drink Festival in Manchester, UK.

Under the guidance of Carrie Curie, of SweetPea Cakes, chairing the world record attempt and with Carol Angelescu Levy at the helm of coordinating many bakeries, restaurants and individuals from their 132 RFL teams to bake and donate cupcakes for this worthy cause.

Cupcakes for the attempt were provided by local bakeries and most of the 100 Relay teams.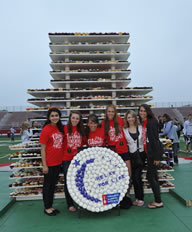 Photo: Cupcake Display Tower with the youth committee. Photo: Dr. Alan Dalessandro (enlarge photo)

The highlight was the fabulous cupcake display in the center of the beautiful Barrington Community Stadium built and donated by LEOPARDO Construction of Hoffman Estates.

Sara Hammuck from American Cancer Society, Northwest Suburban Region, says: "We brought in close to 18,000 cupcakes. 16,478 of those fit on our gorgeous 18 tier display tower through carefully engineered blueprints by Imperial Woodworking Company of Palatine.

" With overflowing community support for this world record attempt, we exceeded our goals and had to begin selling the extra cupcakes at our concessions as we continued to raise money for cancer that evening. Other food available was provided by Jimano's Pizza of Fox River Grove and MillRose Restaurant."

"A unique Song Sponsor program which featured Ron Hawking, Quinn Rowe, Premium Blend, X, BCC, and many local talented performers to raised additional funds.
A new silent auction & take a chance tent was added along with great kids activities for all to enjoy. We also sold a record number of 1300 luminaria which glowed through the night to honor loved ones."

The donated sweet treats were sold for $1 each, with leftovers donated to area food banks.

Barrington's Relay for Life event raised more than $364,000, according to organizers, and the money is still coming in.

Participants included more than 132 teams, hundreds of survivors and caregivers, and the lighting of more than 1,300 luminaria to honor loved ones.

Events and community involvement went "round" the clock. Highlights included a survivor dinner with over 200 survivors which was made possible through a generous grant from the Barrington Area Community Foundation with food served and provided by Millrose Restaurant in Barrington.

"This community really came together in a tremendous demonstration of caring and generosity this weekend," said Joanne Dalessandro, who co-chaired the event with her daughter Dina.

"Having cancer is hard, but walking alongside survivors and caregivers provides us with such power and hope. That helped keep us focused and inspired to raise as much money as possible to help save lives and to walk around the clock in honor of those in our community who have been touched by cancer."

"The money raised at Relay For Life of Barrington helps fund American Cancer Society programs that are provided free to area residents to help them take steps to prevent cancer, get well when cancer strikes, fund the research that helps us better understand and prevent cancer, and fight back by empowering our voices and working with lawmakers to pass laws to defeat this disease," said Dalessandro.

"Relay is all about hope and the many birthday celebrations we have to look forward to now and in the future thanks to our continuing efforts."

The world record attempt was sponsored by: SweetPea ( sweetpeacakesetc.com), Piece A Cake (piece-a-cake.com), The Lucky Monk (theluckymonk.com), Wynstone Golf Club (wynstone.org), Millrose (millroserestaurant.com), Barrington High School (barringtonhighschool.org).

According to the Illinois Department of Public Health, more than 65,270 Illinois residents will be diagnosed with cancer this year and more than 25,540 will die from the disease.

If you missed Relay For Life of Barrington, but would still like to make a donation, or want to learn more about Relay For Life or patient programs, visit www.relayforlifebarrington or call the American Cancer Society at (847) 368-1166.

Donations can also be mailed to American Cancer Society, 1114 Arlington Heights Road, Arlington Heights, IL 60004.
Related world records:
Most People Simultaneously Frosting Cupcakes: Cupcake Smackdown

Largest Cupcake Tower: Gulf High School Interact Club

Largest Cupcake: Cakes.com

Largest Dessert Party: Tanger Outlet Centers (HD Video)

Largest ice cream cake: Dairy Queen Canada (HD Video)

Largest Mango Pie: Philippines

Longest Ice Cream Dessert: St. Anne's School in Bethlehem (Video)

Largest corn flour patty (arepa): Empresas Polar

Largest organic cake: Carlo's Bake Shop

Oldest Wedding Cake: 113-year-old wedding cake

Largest Chocolate Bar Billboard: Meiji Seika Kaisha Ltd.

Largest ice cream cone: Italian gelato experts

Lowest calories wafers: buckwheat hull wafers

Tallest Chocolate Christmas Tree : Patrick Roger

Largest cake sculpture: Ritz-Carlton chefs

Largest snow cone: Bahama Buck's

Largest Stollen: Dresden Giant Stollen

Largest Custard Cream Biscuit - Paul Thacker and Simon Morgan

Largest brandy truffle - Gianni D'Aniello and Chef Chris Long

Largest Pumpkin Pie - New Bremen Pumpkinfest

Largest King Cake - Haydel's Bakery

Largest chocolate bar - Grand Candy factory

Largest chocolate coin - Science World sets world record

Largest Tiramisu - The Italian Association in Porrentruy

Largest cheese sculpture - Tanys Pullin

Largest Cupcake Tower - Gulf High School Interact Club s

Largest chocolate sculpture - Mirco Della Vecchia

Most people simultaneously licking ice cream - Augustana College

Largest baby grand piano cake - Confection Bakery

Largest chocolate bunny - Harry Johnson for Duracell

Most expensive display wedding cake - The Dallas Bridal Show

Largest Gingerbread Man - Dave Bowden

Largest tiramisu - French chefs

Largest Cupcake - Big Top Cupcake

Largest Cupcake-world record set by Cakes.com

Largest slab of chocolate fudge - Lansing Community College

Largest Dessert Buffet - Emirates Culinary Guild

Largest Easter Bread with Cheese ("Pasca") - Radauti city

Biggest chocolate eclair - The Swallow Bakery

Biggest cheesecake-world record set by Mexico Chefs

Biggest Kings' Cake (La Rosca de Reyes) - Mexican bakers

Biggest Chocolate Crepe Cake - Gus Kazakos

Most expensive ice cream sundae - Serendipity 3

Largest candy mosaic - London

Most Expensive Watermelon - Densuke watermelon

Biggest chocolate castle - Krunoslav Budiselic

Largest box of chocolates - Thorntons Moments

Largest crab cake - Handy International and Dover Downs

Largest Snow Cone - Paul Zajac and Station 885 Restaurant

Friday, June 17, 2011