Monday, December 6, 2010

Largest Stollen: Dresden Giant Stollen set world record
DRESDEN, Germany--The German city of Dresden celebrated the start of the Christmas season by parading a giant Stollen through the streets of the baroque old town; the one baked for the 7th Dresden Stollen Festival,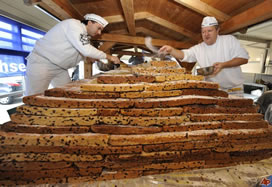 exactly 4,200 kilos in weight, sets the new world record for the Largest Stollen.

Photo by: Bakers and assistants assemble a giant stollen cake from about 250 individual pieces in Dresden, Germany. AP Photo/Matthias Rietschel (enlarge photo)

People enjoying a slice of the cake even do so for a good cause as the money for their slice goes to charity.

A Stollen is a loaf-shaped cake containing dried fruit, and covered with sugar, powdered sugar or icing. The cake is usually made with chopped candied fruit and/or dried fruit, nuts and spices. Stollen is a traditional German cake, usually eaten during the Christmas season, when called Weihnachtsstollen or Christstollen.

Ingredients of the
world's biggest Stollen
(rounded figures):
1,500 kilos wheaten flour
990 kilos seedless raisins (sultanas)
790 kilos butter
455 kilos sugar
200 kilos candied lemon peel
150 kilos almonds (sweet)
110 kilos icing sugar
95 kilos yeast
55 kilos almonds (bitter)
45 kilos lemon peels
44 kilos Jamaica rum
44 kilos powdered milk
30 kilos salt
5 kilos spices
The World's Largest Stollen consists of many single plates (Stollen plates) which are joined by means of butter and sugar. Every year, in November, more than 60 ovens are burning for three weeks in order to bake the stollen plates. About 370 handmade plates, each 11 kilos in weight, have to be produced according to secret recipes of the respective bakers until they are joined together directly on the huge stollen wagon on the weekend before the festivity.
For many weeks, between 1993 and 1994, Prof. Kurt Merker was calculating, drafting, and modeling in an old factory shed in the Berholt-Brecht-Avenue in order to realize the idea of the Stollen-Festival-inventor Peter Mutscheller and to present a Giant Stollen at the 1st Dresden Stollen Festival.
Up to now, the pensioner Prof. Kurt Merker has helped to build up the Giant Stollen and has participated in every Dresden Stollen Festival. For that reason, Dresden`s bakers and pastry-chefs have lovingly nicknamed him the "Stollen professor".

The tradition of baking Christmas Stollen in Dresden is very old. Christmas Stollen in Dresden was already baked in the 15th century.
With the world`s biggest stollen of the 1st Dresden Stollen Festival, Dresden`s bakers and pastry-cooks achieved an entry in the Guiness Book of Records. At that time, the giant Christmas cake weighed 2,720 kilos.

In the meantime, the Guinness world record of 1994 has been beaten several times. The stollen of the 7th Dresden Stollen Festival, exactly 4,200 kilos in weight, holds the record.
Subscribe to our free RSS News feed to receive updates.

Related world records:
Largest Custard Cream Biscuit - Paul Thacker and Simon Morgan

Largest brandy truffle - Gianni D'Aniello and Chef Chris Long

Largest Pumpkin Pie - New Bremen Pumpkinfest

Largest King Cake - Haydel's Bakery

Largest chocolate bar - Grand Candy factory

Largest chocolate coin - Science World sets world record

Largest Tiramisu - The Italian Association in Porrentruy

Largest cheese sculpture - Tanys Pullin

Largest Cupcake Tower - Gulf High School Interact Club s

Largest chocolate sculpture - Mirco Della Vecchia

Most people simultaneously licking ice cream - Augustana College

Largest baby grand piano cake - Confection Bakery

Largest chocolate bunny - Harry Johnson for Duracell

Most expensive display wedding cake - The Dallas Bridal Show

Largest Gingerbread Man - Dave Bowden

Largest tiramisu - French chefs

Largest Cupcake - Big Top Cupcake

Largest Cupcake-world record set by Cakes.com

Largest slab of chocolate fudge - Lansing Community College

Largest Dessert Buffet - Emirates Culinary Guild

Largest Easter Bread with Cheese ("Pasca") - Radauti city

Biggest chocolate eclair - The Swallow Bakery

Biggest cheesecake-world record set by Mexico Chefs

Biggest Kings' Cake (La Rosca de Reyes) - Mexican bakers

Largest Hot Chocolate - Serendipity 3

Biggest Chocolate Crepe Cake - Gus Kazakos

Most expensive ice cream sundae - Serendipity 3

Largest candy mosaic - London

Most Expensive Watermelon - Densuke watermelon

Biggest chocolate castle - Krunoslav Budiselic

Largest box of chocolates - Thorntons Moments

Largest crab cake - Handy International and Dover Downs

Largest Snow Cone - Paul Zajac and Station 885 Restaurant

Largest Scone - Chilterns Gateway Centre

Largest Lamington - Ipswich

Largest cream tea scone - Anne Tattersall

Monday, December 6, 2010