Biggest Kings' Cake (La Rosca de Reyes)-world record set by Mexican bakers

MEXICO CITY, Mexico -- Some 2,000 bakers participated in the making of a 1.6-kilometre (5 249,34 feet), 11-tonne (24 250.84 pounds) Kings' Cake, baked in 2,500 parts throughout the capital and later assembled-setting the world record for the Biggest Kings' Cake (La Rosca de reyes).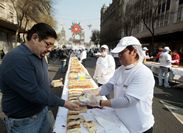 Photo: A man receives a piece of "Roscon de Reyes" bread baked by the Mexican Association of Bakers for city residents, in Mexico City's historic Zocalo square. The world record bake was shared between some 200,000 people gathered to celebrate in the city centre. /Reuters photo (enlarge photo)

Event organizers said it took several hours to assemble it in the Zocalo square. Around 2,300 bakers affiliated to the national baker's association (Canainpa) helped bake the bread.

In all, the sweet bread used 6600kg of flour, 3000kg of butter and 1500 litres of milk, according to Canainpa head Antonio Arias.

The "Kings' Cake", was made to celebrate the Christian holiday when the Three Wise Men - also known as The Three Kings or Magi - visited the newborn baby Jesus.

"This event is important ... we will not lose our traditions'' that unite families, said Laura Vazquez, Mexico's secretary for economic development.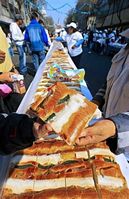 "The cake was delicious. As citizens, we truly thank them (bakers) a lot for contributing to this tradition. For us, it's important to see how people gather in this season and make this kind of show that can only be seen in Mexico," said Eli Adriana Diaz.

Photo: A woman (L) receives a piece of a traditional "Rosca de Reyes", a large ring-shaped cake baked for Epiphany, in Mexico City. The biggest "rosca de Reyes" of the world, of 1600 meters of length, was distributed among 250,000 people at the Zocalo square in Mexico City. (AFP/Luis Acosta) -enlarge photo


Rosca de reyes (fruit cake) is a very fine cake prepared carefully and delicately.
Although the name indicates that it should be round, the Mexican "rosca de reyes" generally has an oval shape due to the need to make cakes larger than 30cm across for larger parties.
For luxurious decoration, Mexican people use tanned and fig fruit, quinces, cherries, etc.; which besides from making it pretty, enriches its flavor. Every year, children in Latin America mark the Epiphany by putting a letter inside a shoe on January 5.
According to tradition, during the night, the Three Wise Men come, read the letter and leave presents.
On January 6, parades representing the kings' trek through the desert in search of Jesus are organized in several cities.

A central part of the celebration of the nativity's Three Wise Men — described in the Bible as bringing presents to the newborn Jesus Christ — revolves around baking and eating La Rosca de Reyes (Three Kings Bread), a sweet, dry delicacy.

Related world records:
Largest ceviche-world record set by Peruvian chefs

Largest Jalebi-world record set in Meghalaya

Biggest barbecue-world record set by Paraguay

Longest Bulz-world record set by the villagers from Turia

Longest beef sosatie-world record set by Arcelor Mittal

Longest ostrich sandwich- world record set by Iran

Largest hot dog-world record set by Monterrey chefs

Biggest burger-world record set by Mallie's Sports Grill & Bar

Longest BLT sandwich-world record set by Windsor High School Culinary Arts

Largest bowl of soup-world record set by The Manukau Big Soup

Tuesday, January 6, 2009