Largest box of chocolates-world record set by Thorntons Moments

[April 10]LONDON, UK--Thorntons broke the World Record for the world's largest box of chocolates.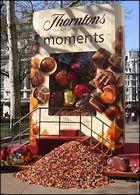 The giant box was created to celebrate the launch of Thorntons 'moments', the Chocolatier's new twist-wrapped chocolates, and unveiled to the public in London's Leicester Square.
(enlarge photo)

The box is 16.5ft tall and 11.5ft wide, containing over 220,000 chocolates.

Inside the worlds largest box of chocolates, Thortons have made thousands of the individually wrapped Moments.

Specially created as a selection of everyone's favourite chocolates, you can grab some of the soft caramels, creamy fudges, chocolate truffles, orange crisps, crunchy pralines or double chocolate croquants all for free.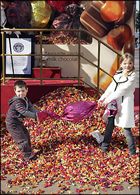 Photo:Londoners Alaistair, 5 (left) and Megan, 8, pull one of the huge sweets out of the box which stands 16.5 metres tall, 5.04 metres long and 11.5 feet wide in Leicester Square, central London.
(enlarge photo)

Box vital statistics
* 5.04 metres (16.5 feet) tall and 3.5 metres (11.5 feet) wide
* Total box weight 4,805lbs - that's over 2 tonnes!
* Contains 220,052 individually wrapped Thorntons moments

The record breaking box is a replica of the new Thorntons moments box, recently launched as the perfect treat to share with friends and family.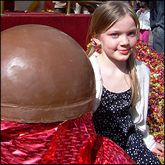 Made using only the finest ingredients from around the world, including West African cocoa beans and 100% cocoa butter. In typical Thorntons style, the new moments range offers a premium twist on individually wrapped chocolates.
(enlarge photo)

· The previous record for the largest box of chocolates was set in 2002, by Marshall Field's Frango chocolates. The box weighed 3,226 pounds (1,204kg)