Fastest board breaking-world record set by Master Mitch Ellis
[Sep 12] COLUMBUS,Ohio,US--Senior Master Mitch Ellis, 6th Degree Black Belt in Taekwondo and owner of Dragon E's Black Belt Academy, set the world record by breaking 3362 wood boards in one hour.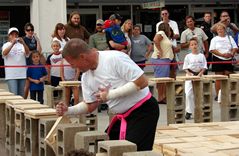 Master Ellis currently holds the world records for 100 wood boards broken in 9.7 seconds and 480 boards in 1 minute, all to raise money for cancer research.
(click here to enlarge photo)

According to the rules,board needs to be at least 9"; Mitch's boards were 1" x 12" x 10".The previous world record world record was 3,014 wood boards broken by one person in one hour.

"Breaking for the Record, Breaking for the Cure" was hold at The Continent located on Busch Blvd, Columbus, Ohio . All proceeds went to Stefanie Spielman Fund for Breast Cancer Research at Ohio State Comprehensive Cancer Center-James Cancer Hospital and Solove Research Institute.

Master Mitch Ellis has been involved with the Stefanie Spielman Fund due to several people, from a sibling to friends, having been diagnosed with breast cancer. "I have made it my personal mission to raise funds for awareness and research so as to help better the chances of saving people's lives," stated Master Mitch Ellis.

Having been involved with Martial Arts since 1973, Senior Master Ellis, a 6th Degree Black Belt in Taekwondo, has trained thousands and has promoted several hundred students to the rank of black belt.

Prior to coming to Columbus in 1998, Master Ellis was the owner of two schools in Florida with over 200 active students. Additionally,

About Dragon E's Black Belt Academy:
Dragon E's Black Belt Academy of Westerville has been in existence since 1998. Currently there are over 70 students enrolled at the school. The main focus of the school is to teach the students discipline, self-control, respect and honor of others.

Video: Board Break - A World Record!