December 5, 2007

Fastest Jump Shooter in Billiards: world record set by Rocky Lane

AUCKLAND, New Zealand -- Rocky Lane (real name: Wilfred Royce Lane) is the Fastest Jump Shooter in Billiards. Rocky set a World Record in Billiards, by jump shooting and clearing all 15 Balls off the Pool table within 14.16 seconds.

This world record remains undefeated, to date, and Rocky is still considered the fastest undefeated Jump Shooter in Billiards, throughout the world.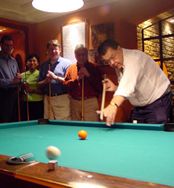 Photo: Mr. Rocky Lane , with his Pool Students at the Hong Kong FCC Pool Society Academy, executes a legitimate jump shot raising the Cue ball up over the Orange five ball, to a level of 12 inches from the table, and it descends down upon the black eight ball which disappears into the center pocket.
(enlarge photo)
This shot is known to have been radar checked at 40 mph whilst in mid air.

Many of his class students, are known faces in the Hong Kong Corporate world , as Presidents and Vice presidents of multinationals, and Rocky's Sunday Pool Academy at the FCC, comes in quite handy for those too busy to spend hours in a Pool Hall learning the hard way, of slow experience.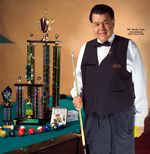 Rocky is a keen Pool Player who plays Competition Pool Tournaments in different parts of the world. He does not claim to be a professional player or even a Pro-Amateur player, although others have said this of him.
(enlarge photo)
He simply plays the game with Passion, and yes, he has collected a few trophies and prizes along the way, in his amateur pool playing career.

He was inspired into the sport by his former late father in law, Mr. Norm Stockman, 1972 snooker champion for New Zealand, in the 70's, where Rocky played the Australasian pro circuit, for two years, then gave it a rest for 26 years and rejoined the sport in early 2002, and thereafter picked up some club trophies and titles, only six months later.

His real name is Wilfred Royce Lane, he was born in Suva, Fiji and his family migrated to New Zealand when he was the tender age of 6 months old. He was raised in a "Walton style Family" environment in the farming community of Hot Water Beach, Whitianga.

Here his father was a share milker and with seven mouths to feed, his 40% share of the butter fat equating to ten pounds per week didn't go far. But, they had taken a five year contract and had to make it work.

Rocky was educated at Whenuakite School, a mile long walk down the dusty road to the bus stop, then it was onto Glenavon Primary, Blockhouse Bay Intermediate, Lynfield College and the University of Auckland, New Zealand. Following his military service for his country, came a Police career during which time he acquired legal studies, graduated and was elevated to a Prosecutor.

He pursued many hobbies including Martial arts, and as a 4th dan black belt acquired a gold medal for New Zealand in the heavy weight karate division of the 1986 Highland games.

Following his retirement from active service as a Prosecutor in the late eighties, Rocky began a new life in Hong Kong in 1989 serving as a Legal Consultant for Immigrants, pursuing a better life in a better place; he also extended his expertise to multinationals seeking legal services.

The Sport is now turning very professional with greater prize money given out. Winners are getting up to US $200,000 and the top 32 players, in an international tournament with a 256 playing field, receiving US $5000 each. "Like Golf and Boxing, Pool players can now become millionaires inthis professional sport," says Rocky.

Rocky trains three days a week, doing around 20 hours per week on the table, and can be seen live at Star Billiards at the Highland Park Mall at Pakuranga, Auckland.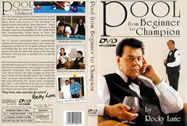 Rocky runs coaching classes for beginners, every Wednesday from 8pm to 10pm, which is FREE to the public.

For those, who can't make it to the coaching clinic, you can order the public movie, "POOL - From Beginner to Champion @ 2004", an instructional DVD for beginners from Rocky's website www.rockylane.org.

Related world records:
Fastest American Pool Speed Jump Shooter over Pool Balls: Rocky Lane breaks world record (VIDEO)

Most marathons run on consecutive days: Alice Burch breaks Guinness World Records record (VIDEO)

Largest arnis class: Cebu City breaks Guinness World Records record (VIDEO)

Largest crawling competition: Japan breaks Guinness World Records record (VIDEO)

Fastest 100m on All Fours: Kenichi Ito breaks Guinness World Records record (VIDEO)




Largest mattress: Dolidol Maroc


Most people making heart-shaped hand gestures: Carrefour Belgium


Largest Human QR Code: Mission Hills China


Scuba Diving in the Most Countries: Karin Sinniger