Largest miniature railroad-world record set by Miniatur Wunderland

[Dec 4]HAMBURG, Germany--The Miniatur Wunderland in Hamburg, Germany has 700 trains, 4,000 automobiles, 165,000 trees and 250,000 individual lights and a track lengh of 5.6 miles has set the world record for the largest miniature railroad.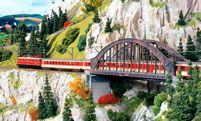 The Miniatur Wunderland has been build during approx. 500,000 working hours and it costed 8.7 Million Euros (in April 07).
In June 2007 the 4,000,000th visitor has been welcomed.
(enlarge photo)
The most expensive train in the stable is the Marklin $500 Big Boy. Made mostly of metal, it is the world's largest model steam locomotive.

"One of our fundamentals has always been to meet every challenge, no matter how hopeless it seems to be in the beginning. With this attitude we managed to create technology which amaze our visitors.", complements Gerrit Braun his brother.

For example, 250,000 lights, which are dynamically turned on and off, together with a self-developed light control system provide an almost perfect simulation of day and night.

170 computer-controlled cars surprise the visitors and more than 150 push-button actions for interaction between the visitor and the Wunderland people.

After the completion of the Swiss section in November 2007, there are more than 1,100 m² of model area where currently more than 150 employees are working on.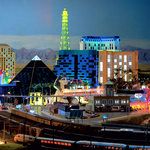 Section America Highlights: Grand Canyon, Las Vegas with its more than 30,000 lights, the Rocky Mountains, the amazing Carsystem with the American fire engines, Miami, the Everglades, Area 51, Cape Canaveral, Pueblo villages, woodmen camps and so on…

The metropolis of Las Vegas, a paradise for gamblers in the desert, is the most luminous spot of the Wunderland. More than 1/10 of all lights installed in the Wunderland – about 30,000 – are located in this world-famous city.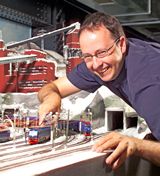 The Keys and Cape Canaveral directly pass into Las Vegas and the Grand Canyon is only separated by a highway from Mount Rushmore and Yosemite Park. The United States of Wunderland are, compared to other areas, not very big, however they are full of attractions.

(enlarge photo)

The Wunderland is very hands on. Kids can punch buttons to set off space shuttles and shark attacks. The trains can be viewed from above and the sides without looking through plate glass.

The trains are computer run by five guys sitting at a control center with dozens of monitors that resemble a NASA board. Each programmer oversees a specific portion of the layout through cameras set up trackside. It takes 33 computers to operate the Wunderland.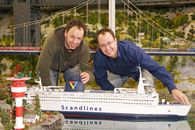 Miniatur Wunderland is not owned by a corporate conglomerate but by twin brothers Frederick and Gerrit Braun. In July 2000, Frederick visited a model railroad shop in Zurich, Switzerland.
(enlarge photo)
He then called his brother to inform him they were going to build the largest model railway in the world.

Link: Miniatur Wunderland









Miniatur Wunderland Hamburg: Schweiz

[ Submit a world record ] [ World Record Certificate]
[ Book of World Records ] [ World Records Store ] [ Club ]




Fastest race around the 'World'-Rohan Veal


Largest passenger plane-Airbus A380


Fastest 10K race-by Hillary Kimaiyo