Thanksgiving world records

Largest monument to the Turkey-Frazee City sets world record
FRAZEE, MN, USA -- The town of Frazee, Minnesota — known as the Turkey Capital of the World — hosts a 20 feet tall turkey statue ("Big Tom") which is known as a popular roadside attraction and sets the world record for the Largest monument to the Turkey. This Big Tom stands over 20 feet (6.1 m) tall and is 17 feet (5.2 m) wide.

(enlarge photo)
The legs were made a little shorter and stouter than a normal turkey to better handle the weight.
The Largest monument to the Turkey is estimated to have 3,000 to 4,000 separate fiberglass feathers, which took the D.W.O. Fiberglass Company over 2,000 hours to make.





Largest pumpkin-world record set by Christy Harp
JACKSON TOWNSHIP, Ohio, USA -- Christy Harp, a local High School math teacher, has grown a 1,725 pounds pumpkin-which sets the new world record for the Largest pumpkin.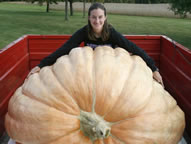 Photo: Christy Harp shows off her world-record 1,725-pound Atlantic giant pumpkin. The Jackson High School teacher won $2,500 and set the record at a competition in Canfield on Saturday (enlarge photo)
Christy Harp and her husband, Nick, have been growing giant pumpkins for the past eight years.
For Christy, growing gargantuan gourds has become a personal challenge since the eighth grade, and is now a bit of a hobby at the family farm. This year, she and her husband decided to have a little contest.



Fastest pumpkin carver-world record set by Steven Clarke
ATLANTIC CITY, NJ, USA -- Steven Clarke, Havertown, Pa., carved one ton of pumpkins in 3:33:49 -setting the world record for the Fastest pumpkin carver.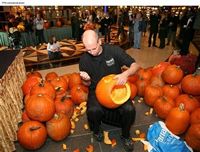 Photo: Clarke had to carve a complete face in each pumpkin - eyes, ears, nose, mouth and eyebrows - and then put the lid back on for a pumpkin to be counted. (enlarge photo)
Steven Clarke also set the world record for the shortest time to carve 100 pumpkins: 3:44:50.
There are strict rules in order for the pumpkin record to be official. Each pumpkin must weigh a minimum of 18 pounds and be cleaned and gutted prior to the record attempt.



Largest Pumpkin Regatta-world record set by The Windsor Pumpkin Regatta