Most people eating corndogs-Iowa State Fair sets world record

DES MOINES, IA, USA -- The Corndog Chomp, part of this year's opening ceremonies of the Iowa State Fair, has set a world record for the most people simultaneously eating corndogs: 8,400.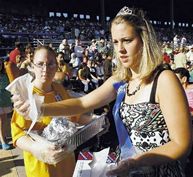 Photo: Sac County Fair Queen Angie Fischer hands out corn dogs to participants. Lines formed at the gate before 5 a.m., and traffic was snagged for blocks on streets near the fairgrounds. Photo by Des Moines Tegister
(enlarge photo)

"The turnout certainly exceeded our expectations. With so many people willing to get out bright and early, it's clear Iowans are eager to enjoy every minute of their Fair," said Fair Manager/CEO Gary Slater.

Traffic backed up for blocks and for miles on Interstate Highway 235. Lines formed at the gate before 5 a.m. Those who showed up before 8 a.m. got in free.

The 8,000 corn dogs went fast, another 400 were quickly distributed. At about 8:50 a.m. Thursday everyone who had one took a bite at the same moment. They chompers simultaneously munched all over the Grandstand, some fairgoers went without.

The 2008 Iowa State Fair celebrates the passion Fairgoers have for the state's great Fair and all the traditions they look forward to each year, including food, fun, free entertainment, competition, livestock and people watching.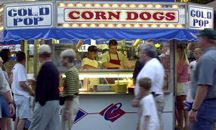 For the first time in history, the Fair offered free admission at the gate from 5-8:30 a.m. and a free corndog at opening ceremonies.
(enlarge photo)
More than 42,000 people came through the gate before 8:30 a.m.
Campbell's Concessions cooked the corn dogs and Sysco provided the hot dogs.

The internationally-acclaimed Iowa State Fair annually attracts more than a million fun-lovers from around the world. In 2005, Midwest Living magazine named the event one of the "Top 30 Things Every Midwesterner Should Experience."

Special features include one of the world's largest livestock shows, the country's largest state fair foods department (approx. 900 classes), the state's largest arts show, hundreds of competitive events and wacky contests; 600 plus exhibitors and concessionaires selling quality and tasty treats, and 160 rolling acres of campgrounds.

Considered America's classic state fair, Iowa's ag-extravaganza is also featured in the New York Times best-selling travel book, "1000 Places to See Before You Die."

The Iowa State Fair Blue Ribbon Foundation is a non-profit 501(c)3 organization. Since its establishment in 1993, the Foundation has generated over $65 million for renovations and improvements to the Iowa State Fairgrounds.

The 2008 Iowa State Fair runs August 7-17 – "U Gotta Love It."

For more information, call 800/545-FAIR or check out www.iowastatefair.org.

Link: Blue Ribbon Foundation









Saturday, August 9, 2008