Biggest chocolate castle: world record set by Krunoslav Budiselic

[April 11] ZAGREB, Croatia-- Croatian Krunoslav Budiselic has built the biggest castle made of chocolate after working for 24 hours on his candy construction in a central Zagreb square, national television reported.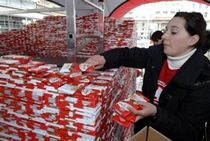 The three-meter (10 feet) high construction with six-by-two-meter base was made of chocolate bars from a local producer Kras.

Photo: AFP

Some 100,000 chocolate bars were used to build the castle, which weighs 10 tonnes.

Krunoslav Budiselic finished the construction of the 10-ton castle in 24 hours.

After the castle was built its "bricks" were being sold as part of a charity event ahead of Easter to help disabled athletes.

Budiselic's name has so far entered the Guinness Book of Records four times. He holds records for the most push-ups in one minute, moon walking backwards, fastest opening of beer bottles and pushing a car together with his partner Mario Mlinaric.