Sunday, September 26, 2010
Largest Pumpkin Pie - New Bremen Pumpkinfest sets world record
NEW BREMEN, OH, USA--The membership of the New Bremen Giant Pumpkin Growers baked a 20-foot diameter pumpkin pie weighing in at 3,699 pounds -setting the new world record for the Largest Pumpkin Pie.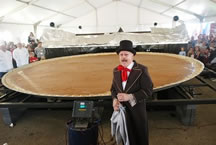 Photo: Ringmaster Vernon Bergman, reveals the World's Largest Pumpkin Pie at the Crown Pavilion in New Bremen. The pie was made by nine area chefs. Photo by: Luke Gronneberg /AP (enlarge photo)

The Largest Pumpkin Pie in The World crushed the group's previous Guinness world record pie, a 12-foot diameter pumpkin pie — weighing in at a measly 2,020 pounds — they baked in 2005.
Largest Pumpkin Pie
- Diameter: 20 feet
- Thickness: three inches
- Volume: 132,300 cubic inches, 572 gallonss

Ingredients include:
- 187 No. 10 cans of pumpkin
- 233 dozen eggs
- 109 gallons of evaporated milk
- 525 lbs of sugar
- 7 lbs. of salt
- 14.5 lbs. of cinnamon
- 3 lbs. pumpkin pie spice

Hundreds of spectators circled the Crown Pavilion as volunteers in towering chef hats pulled the Largest Pumpkin Pie from its massive homemade oven and onto the scales.

Local actor Vernon Bergman, dressed in full ringmaster regalia, announced the verdict as a representative from the Shelby County Office of Weights and Measures certified the weight to the response of a roaring crowd.

"This is it. This is certainly the biggest stage I've ever been on," Bergman said following the announcement.

The ceremony followed days of hard work and the sort of custom engineering required to build giant pastries.
A new pie pan was fabricated by Arctech Fabricating, of Springfield.
Susan Krieg, a local baker and owner of The Pie Shell, in New Bremen, prepared the world record crust, piecing it together Friday evening.
Crews began actually baking the pie at midnight Friday.They gave it about two hours to cool before weighing it and splitting it up into roughly 5,000 slices to feed the hungry crowd.

Subscribe to our free RSS News feed to receive updates.
Related world records:
Largest pumpkin - Joe Jutras

Largest King Cake - Haydel's Bakery sets world record

Largest chocolate bar - Grand Candy factory

Largest chocolate coin - Science World sets world record

Largest Tiramisu - The Italian Association in Porrentruy

Largest cheese sculpture - Tanys Pullin

Largest Cupcake Tower - Gulf High School Interact Club s

Largest chocolate sculpture - Mirco Della Vecchia

Most people simultaneously licking ice cream - Augustana College

Largest baby grand piano cake - Confection Bakery

Largest chocolate bunny - Harry Johnson for Duracell

Most expensive display wedding cake - The Dallas Bridal Show

Largest Gingerbread Man - Dave Bowden

Largest tiramisu - French chefs

Largest Cupcake - Big Top Cupcake

Largest Cupcake-world record set by Cakes.com

Largest slab of chocolate fudge - Lansing Community College

Largest Dessert Buffet - Emirates Culinary Guild

Largest Easter Bread with Cheese ("Pasca") - Radauti city

Biggest chocolate eclair - The Swallow Bakery

Biggest cheesecake-world record set by Mexico Chefs

Biggest Kings' Cake (La Rosca de Reyes) - Mexican bakers

Largest Hot Chocolate - Serendipity 3

Biggest Chocolate Crepe Cake - Gus Kazakos

Most expensive ice cream sundae - Serendipity 3

Largest candy mosaic - London

Most Expensive Watermelon - Densuke watermelon

Biggest chocolate castle - Krunoslav Budiselic

Largest box of chocolates - Thorntons Moments

Largest crab cake - Handy International and Dover Downs

Largest Snow Cone - Paul Zajac and Station 885 Restaurant

Largest Scone - Chilterns Gateway Centre

Largest Lamington - Ipswich

Largest cream tea scone - Anne Tattersall

Largest Jalebi - Meghalaya

Biggest scone - The Hallett family

Sunday, September 26, 2010