New Year world records
Biggest New Year Party-world record set by Rio de Janeiro
Copacabana Beach, Brazil--In Brazil more than four million people saw in the New Year on the beaches of Rio de Janeiro.Two million party-goers were on Copacabana beach alone, witnessing a fireworks display that lasted nearly 20 minutes. They set the world record for the Biggest New Year Party.
In Sao Paulo, South America's biggest city, local media said 2.3 million people celebrated at the Avenida Paulista, Brazil's financial center.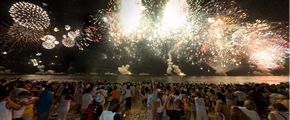 Photo: New Year 2008 in Rio de Janeiro
The New Year fireworks at Copacabana Beach, panoramic photo by Willy Kaemena
-click here to enlarge photo and
-click to see full panoramic view
Masses of people turned out despite nighttime temperatures up to 35 degrees, dancing on the sand before stages and filling promenades that had been blocked to traffic.




Longest Jump in a Rally Car-Travis Pastrana sets world record

Longest time spent in a sub-zero ice cube - Hezi Din sets world record