Biggest New Year Party-world record set by Rio de Janeiro

[Jan 1]Copacabana Beach,Brazil--In Brazil more than four million people saw in the New Year on the beaches of Rio de Janeiro.Two million party-goers were on Copacabana beach alone, witnessing a fireworks display that lasted nearly 20 minutes. They set the world record for the Biggest New Year Party.

In Sao Paulo, South America's biggest city, local media said 2.3 million people celebrated at the Avenida Paulista, Brazil's financial center.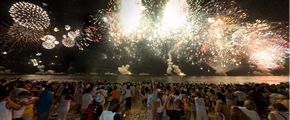 Photo: New Year 2008 in Rio de Janeiro
The New Year fireworks at Copacabana Beach, panoramic photo by Willy Kaemena
-click here to enlarge photo and
-click to see full panoramic view

Masses of people turned out despite nighttime temperatures up to 35 degrees, dancing on the sand before stages and filling promenades that had been blocked to traffic.

By 3am (05.00 GMT), tens of thousands of revellers remained on the 2-kilometre-long Avenida Atlantica on the famous Copacabana beach and in the adjacent neighbourhood of Ipanema. Many slept off the festivities on the beach as well.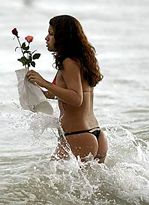 At the New Year's Eve celebration at Copacabana people participate in an African ritual ceremony to honor deity Lemanja, the Goddess of Sea. Boats of varied sizes are prepared with the images of deity Lemanja, which are later put in the sea. Everyone comes with white flowers, which are thrown into the sea as an offering to the Goddess Lemanja . The deity Lemanja is also offered numerous gifts on the New Year's eve.
(enlarge photo)

More than 10 000 police officers were deployed to provide security, but the evening proceeded with no remarkable incidents except for a ricocheting bullet that injured a 63-year-old woman, media reports said.

In honour of the goddess Yemanja, most people were clothed all in white and threw flowers into the sea so that the ocean goddess of the African-Brazilian Umbanda cult would fulfil their New Year's wishes. Others presented her with offerings of jewels, sparkling wine and expensive clothing on tiny wooden boats.

Rio celebrated the New Year with a record number of visitors. More than 600 000 foreign and domestic tourists filled up 98 percent of the city's hotel rooms, the tourism office said.

City leaders call Rio's celebration, which cost 10 million reals ($5,7-million), "the biggest party in the world", but millions of Brazilians also celebrate in their country's financial capital, Sao Paulo, where more than 2 million congregated alone at the music shows on the Avenida Paulista.
"Many people are not coming just because there is a lack of sufficient flights from Europe and the United States to Rio; otherwise, they would come," Rio de Janeiro's Secretary of Tourism Rubem Medina said.

Related:
Biggest fireworks show on the barge-Fireworks do Brasil sets world record

Reveillon Copacabana 2008 video

Links to some amazing panoramic photos:
Rio de Janeiro 2008 panoramic photo
Rio de Janeiro New Year 2007


[ Submit a world record ] [ World Record Certificate]
[ Book of World Records ] [ World Records Store ] [ Club ]




Fastest deal Donald Trump and Ricardo Bellino


Fastest Jump Shooter in Billiards-Rocky Lane


Largest miniature railroad-Miniatur Wunderland


Fastest race around the 'World'-Rohan Veal

Fastest board breaking-record set by Mitch Ellis