Longest letter to Santa Claus-world record set by the Romanian Post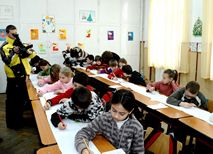 BRASOV, Romania -- Over two thousand school children aged 8 to 14, wrote in nine days a 413,80 m (1357.61 feet) long letter to Santa Claus-setting the world record for the Longest letter to Santa Claus.
Photo: Past 10 days, a paper roll longer than 300 meters circulated in local schools of Brasov city for children to write their requests for Santa. (enlarge photo)

The campaign was an initiative of the Romanian Post Office and the local school inspectorate.

Each child started by asking Santa to get grown-ups to save forests and protect the environment.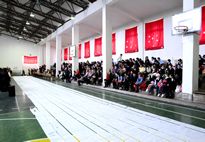 By writing on the same (thin) paper the Longest letter to Santa Claus, children saved tens of pounds of paper (needed if used separate letters & envelopes).
(enlarge photo)


The Romanian Post Office paid the postage for the Longest letter to Santa Claus and will bring two of the schoolchildren to visit Santa's official residence in Finland.

The giant letter was sent to Santa's official "residence":
Santa Claus,
Arctic Circle,
96930,
Rovaniemi, Finland

The Longest letter to Santa Claus will be then taken back to Romania, to be included into a local world records exhibition.

In the end, the Longest letter to Santa Claus will be recycled into exercise books for children.

The World Record Academy's representative has verified the letter's lengh and awarded the world record certificate for the Longest letter to Santa Claus.





Link: Santa Claus live webcam

Related world records:
Largest rubber band ball-world record set by Joel Waul

Youngest to solo airplane & helicopters

Longest chain of shoes-National Geographic Kids magazine sets world record

Largest administrative building-world record set by The Palace of the Romanian Parliament

Youngest Successful Singer-world record set by Cleopatra Stratan
Friday, December 19, 2008