Most expensive ice cream sundae - world record set by Serendipity 3
[Nov 8] NEW YORK CITY, USA --The Frrrozen Haute Chocolate, a $25,000 dessert bulging with top-grade cocoa, edible gold and shavings of a luxury truffle. has set the world record for the most expensive ice cream sundae.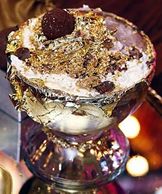 Stephen Bruce, owner of Serendipity 3, partnered with luxury jeweler Euphoria New York to create the "Frrozen Haute Chocolate," a blend of 28 cocoas, including 14 of the most expensive and exotic from around the globe.

(enlarge photo)

The dessert, spelled with two Rs, is infused with 5 grams of edible 23-karat gold and served in a goblet lined with edible gold.

At the base of the goblet is an 18-karat gold bracelet with 1 carat of white diamonds.

"It took us a long time to experiment with all the ingredients and flavors, and more than three months were needed just to design the golden spoon"-Stephen Bruce

The sundae is topped with whipped cream covered with more gold and a side of La Madeline au Truffle from Knipschildt Chocolatier, which sells for $2,600 a pound.

It is served in a goblet with a band of gold decorated with 1 carat of diamonds and served with a golden spoon diners can take home.

Four years ago, Bruce unveiled a $1,000 ice cream sundae called Golden Opulence, a staple on his menu and a favorite with rock stars, socialites and other celebrities.

Both desserts are sold only with advance orders. Bruce said he has received inquiries about his latest creation, mostly from Europeans planning to visit New York.

s.


Strongest Ear-Lasha Pataraia


Fastest talking female-Fran Capo


Largest passenger plane-Airbus A380


Fastest 10K race-by Hillary Kimaiyo


Fastest board breaking-record set by Mitch Ellis