Fastest talking female-world record set by Fran Capo

[Oct 27]NEW YORK, USA--Fran Capo is world's fastest talking female clocked at 603.32 words in 54.2 seconds. That's 11 words a second!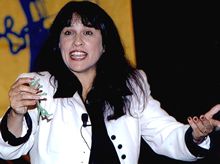 Actually Fran broke this record twice, the first time on the Larry King Live Show on March 5th, 1986 speaking 585 wpm and the second time at the Guinness Museum in Vegas speaking 603.32 words in 54.2 seconds.

Fran Capo has appeared on over 250 TV shows including; Good Morning America, Larry King Live, Last Call with Carson Daly, Inside Edition, ET, Ripley's Believe it or Not, More than Human and Nick at Nite's - Hi Jinx. She's been heard on over 1000 radio shows including Howard Stern.

She came from her upstate New York home to promote an Expedia.ca contest for fast-talkers with a prize trip to Vegas, spiritual home of fast-talkers. Go to www.fasttalktovegas.ca

Fran Capo has been doing adventures since an early age. As an adventurer Fran has bungee jumped, swam with sharks, flown combat aircraft, driven race cars, crawled in a polar bear den, slept in an ice hotel, climbed Kilimanjaro and dove to the wreck site of the Titanic.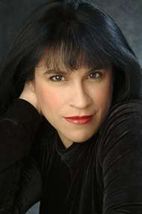 She has written several articles on her adventures, journals them in her weekly blogs, and has authored the book "Adrenaline Adventures: Dream it, Read it, Do it!" which not only chronicles 50 of her adventures, but tells the reader where they can go out an do it themselves.

She likes to say she's 37, with a 19-year old son, was divorced when he was 4 months old, married again but "it lasted three months it was just lust."

Fran also has done book signings at the top of Mount Kilimanjaro and at the Titanic! World Record Academy recognized these records as "Highest altitude book signing" and "Deepest Sea book signing".
|
Here's how Capo got her world record for fast-talking:
"You have to read something from Shakespeare or the Bible. They use an Olympic timer to time you to 1/100th of a second. Then they slow it down with a lexicon compressor that doesn't distort it. Finally, they send the tape to a speech analyst to make sure you're saying every single syllable and match it against the script. A few hours later they let you know whether you got the record or not."

Fran's Secret:
People often ask me how I did that or how I've managed to do many of the things I've done, like lecturing for the first time, or going on stage or bungee jumping. I tell them I live my life by this simple philosophy: I always say yes first, then ask myself, " Now, what do I have to do to accomplish that?"

If I get the slightest bit nervous I think: "What is the worst thing that can happen if I don't succeed? The answer is simply, I don't succeed! And what's the best thing that can happen? I succeed. What more can life ask of you? Be yourself, and have a good time!

Catch up with her at www.francapo.com and link to her blog.

Fast Talking Fran on MySpace

Booking Info, click here

World's fastest-talking man is England's Steve Woodmore, who clocked 637 words per minute.

World's Fastest Women Fran Capo video


Fran's World: Lady Mendl's video






Fastest single-turbine engine plane


The Perfect Ten- Nadia Comaneci