Tuesday, March 22, 2011

Heaviest Person to Complete a Marathon: Kelly Gneiting sets world record (Video)

LOS ANGELES, CA, USA -- Self-proclaimed "Fat Man" Kelly Gneiting, a 430-pound sumo wrestler and longhaul truck driver, finished the Los Angeles Marathon in 11 hours, 52 minutes, and 11 seconds - setting the new world record for the Heaviest person to complete a marathon.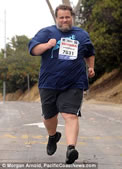 Photo: Kelly Gneiting, 40, grabbed a Guinness World Record at the Los Angeles Marathon after he plodded across the finish line drenched in rain and with a time of 9:48:52. (enlarge photo)

The 400-pound sumo wrestler out of eastern Idaho smashed the previous Guinness World Record of 275 pounds and easily bettered his own unofficial personal best of 11 hours 52 minutes and 11 seconds.

Guinness World Records also recognizedthe world record for the heaviest competitive male bodybuilder: Daniele Seccarecci (Italy) whose competition weight is 135 kg (297.62 lbs). He was weighed on the set of Lo Show dei Record in Rome, Italy.

"I'd like to see the Kenyan improve his marathon time by two hours," Gneiting joked.

Gneiting, a three-time US national champion sumo wrestler, is six-foot tall with a five-foot waist. And stamina is certainly a strong suit: he once ate eight Big Macs at a single sitting.

Kelly Gneiting, who was the last of 11,891 men to cross the Los Angeles marathon finish line on Sunday, described the race as "pure hell".

According to the report, he had to obey traffic signals and walk on sidewalks for much of the race because the roads had already reopened.

"I was really struggling in the last five miles," he said, "but I said to myself, 'If I have to crawl, I will.'"

Gneiting's next goals are to swim the English Channel and hike from the Dead Sea to Mt. Everest.

Related world records:
Fastest running nonagenarian: 95-Year-Old Ida Keeling (Video)

Most marathons run on consecutive days: Stefaan Engels

Fastest running centenarian: Miyazaki Hidekichi

Most consecutive push-ups: wrestler Munir Ahmed

Fastest Human Crab Walker: Cameron Jones

Oldest female marathon finisher: Gladys Burrill

Largest Resistance Band Class: Sheraton New York

Most marathons in a year: Yolanda Holder

Largest physical education class: Ga. students

Most fitness records broken in a day: Stephen Buttler

Longest distance run in 365 days: Serge Girard

Fastest Mile in a Bomb Suit: SSG Eric Johnson

Longest distance run in seven days on a treadmill: Mimi Anderson

Fastest Lunge Mile: Jamasen Rodriguez

11 marathons in 11 days: Kalyn Jolivette

Fastest mile in a bomb suit: SSgt Owen Duff

Youngest coach of an Olympic women's marathon winner: Valeriu Tomescu

Oldest Olympic women's marathon winner: Constantina Dita

Longest Non-stop walking hill marathon: Emil Ilic

Fastest 10K race: Hillary Kimaiyo

Highest Standing Box Jump: Ryan Moody

Fastest mile in a bomb suit: Lt. Jonathan Kehoe

Longest solo run around US perimeter: Reza Balunchi

Most people running in a "Stiletto Sprint'': Australia

Tuesday, March 22, 2011