Sunday, March 20, 2011

Largest organic cake: Carlo's Bake Shop sets world record

UNION, New Jersey, USA -- Carlo's Bake Shop, of TLC's "Cake Boss", created for Garden State GreenFest a giant carrot cake from natural and fair-trade organic ingredients, measuring more than 4-foot-long, big enough to feed 500 people , setting the world record for the Largest organic cake.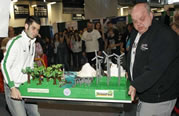 Photo: (Left to right) Angelo Caporrino and Chef Mauro Castano carry the organic cake to a table at Kean University. Photo courtesy: Noah K. Murray (enlarge photo)

The Guinness world record for the largest crab cake weighed 114.75 kg (253 lb) and was made by Special Olympics Maryland in conjunction with Handy International and Graul's Market (all USA) in Hampden, Maryland, USA,

Guinness World Records also recognized the longest roll cake: 15.8 m (51 ft 10.05 in), achieved by the children who participated in Miraikko Carnival (Japan) and the organizer Osakafu Yugigyo Kumiairengokai at Namihaya Dome, Osaka, Japan.

500 people got the chance to devour the finished product — a more than 4-foot-long carrot cake made from natural and fair-trade organic ingredients.

"It's educational," Castano said. "The ingredients are out there. If everyone just did little things like this, we could make an impact."

The cake was one of dozens of exhibitions and activities at the fourth annual Garden State GreenFest, a three-day event co-sponsored by Kean University and The Star-Ledger and created to educate children and adults about sustainable living.

Related world records:
Oldest Wedding Cake: 113-year-old wedding cake

Largest Chocolate Bar Billboard: Meiji Seika Kaisha Ltd.

Largest ice cream cone: Italian gelato experts

Lowest calories wafers: buckwheat hull wafers

Tallest Chocolate Christmas Tree : Patrick Roger

Largest cake sculpture: Ritz-Carlton chefs

Largest snow cone: Bahama Buck's

Largest Stollen: Dresden Giant Stollen

Largest Custard Cream Biscuit - Paul Thacker and Simon Morgan

Largest brandy truffle - Gianni D'Aniello and Chef Chris Long

Largest Pumpkin Pie - New Bremen Pumpkinfest

Largest King Cake - Haydel's Bakery

Largest chocolate bar - Grand Candy factory

Largest chocolate coin - Science World sets world record

Largest Tiramisu - The Italian Association in Porrentruy

Largest cheese sculpture - Tanys Pullin

Largest Cupcake Tower - Gulf High School Interact Club s

Largest chocolate sculpture - Mirco Della Vecchia

Most people simultaneously licking ice cream - Augustana College

Largest baby grand piano cake - Confection Bakery

Largest chocolate bunny - Harry Johnson for Duracell

Most expensive display wedding cake - The Dallas Bridal Show

Largest Gingerbread Man - Dave Bowden

Largest tiramisu - French chefs

Largest Cupcake - Big Top Cupcake

Largest Cupcake-world record set by Cakes.com

Largest slab of chocolate fudge - Lansing Community College

Largest Dessert Buffet - Emirates Culinary Guild

Largest Easter Bread with Cheese ("Pasca") - Radauti city

Biggest chocolate eclair - The Swallow Bakery

Biggest cheesecake-world record set by Mexico Chefs

Biggest Kings' Cake (La Rosca de Reyes) - Mexican bakers

Biggest Chocolate Crepe Cake - Gus Kazakos

Most expensive ice cream sundae - Serendipity 3

Largest candy mosaic - London

Most Expensive Watermelon - Densuke watermelon

Biggest chocolate castle - Krunoslav Budiselic

Largest box of chocolates - Thorntons Moments

Largest crab cake - Handy International and Dover Downs

Sunday, March 20, 2011