Monday, February 14, 2011

Oldest Wedding Cake: 113-year-old wedding cake sets world record

Basingstoke, Hampshire, UK -- A wedding cake, baked in 1898 when Queen Victoria was ruling from the British throne, is still complete and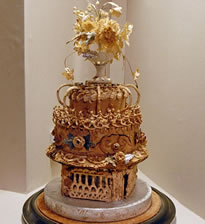 moist , setting the world record for the Oldest Wedding Cake.

Photo: The World's Oldest Wedding Cake is now stored in an air conditioned gallery. (enlarge photo)

The World's Oldest Wedding Cake which was baked 113 years ago has now got brown icing because the sugars have seeped through to the surface.

It also has a crack in its side due to vibrations from a bomb blast during the second world war.

But tests with a syringe have shown the rich fruit cake inside the ornate icing is still moist - although not edible!

The Guinness world record for the Largest crab cake weighed 114.75 kg (253 lb) and was made by Special Olympics Maryland in conjunction with Handy International and Graul's Market (all USA) in Hampden, Maryland, USA.

Guinness World Records also recognized the largest truffle cake: it weighed 1,041 kg (2,295 lb), and was made by the Asociacion de pasteleros de Burgos to celebrate the centenary of CAJA CIRCULO in Plaza España, Burgos, Spain.

The four-tier cake was orginally displayed in a family bakery until it closed in 1964, then kept in an attic before being donated to the Willis Museum in Basingstoke, where it has just gone on show.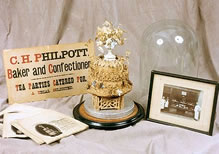 (enlarge photo)

Curator Sue Tapliss told Sky News: "The baker's daughter, who was unmarried, donated the cake towards the end of her life because she feared someone might discover it in her attic and think she had been jilted at the alter."

She added: "Pieces of Queen Victoria's wedding cake were auctioned off, but this is the world's oldest complete one."

Mrs Tapliss added: 'We hope that the cake can be enjoyed for a further 113 years.'

Subscribe to our free RSS News feed to receive updates.

Related world records:
Largest Chocolate Bar Billboard: Meiji Seika Kaisha Ltd.

Largest ice cream cone: Italian gelato experts

Lowest calories wafers: buckwheat hull wafers

Tallest Chocolate Christmas Tree : Patrick Roger

Largest cake sculpture: Ritz-Carlton chefs

Largest snow cone: Bahama Buck's

Largest Stollen: Dresden Giant Stollen

Largest Custard Cream Biscuit - Paul Thacker and Simon Morgan

Largest brandy truffle - Gianni D'Aniello and Chef Chris Long

Largest Pumpkin Pie - New Bremen Pumpkinfest

Largest King Cake - Haydel's Bakery

Largest chocolate bar - Grand Candy factory

Largest chocolate coin - Science World sets world record

Largest Tiramisu - The Italian Association in Porrentruy

Largest cheese sculpture - Tanys Pullin

Largest Cupcake Tower - Gulf High School Interact Club s

Largest chocolate sculpture - Mirco Della Vecchia

Most people simultaneously licking ice cream - Augustana College

Largest baby grand piano cake - Confection Bakery

Largest chocolate bunny - Harry Johnson for Duracell

Most expensive display wedding cake - The Dallas Bridal Show

Largest Gingerbread Man - Dave Bowden

Largest tiramisu - French chefs

Largest Cupcake - Big Top Cupcake

Largest Cupcake-world record set by Cakes.com

Largest slab of chocolate fudge - Lansing Community College

Largest Dessert Buffet - Emirates Culinary Guild

Largest Easter Bread with Cheese ("Pasca") - Radauti city

Biggest chocolate eclair - The Swallow Bakery

Biggest cheesecake-world record set by Mexico Chefs

Biggest Kings' Cake (La Rosca de Reyes) - Mexican bakers

Biggest Chocolate Crepe Cake - Gus Kazakos

Most expensive ice cream sundae - Serendipity 3

Largest candy mosaic - London

Most Expensive Watermelon - Densuke watermelon

Biggest chocolate castle - Krunoslav Budiselic

Largest box of chocolates - Thorntons Moments

Largest crab cake - Handy International and Dover Downs

Largest Snow Cone - Paul Zajac and Station 885 Restaurant

Monday, February 14, 2011