Monday, March 21, 2011

Longest dance marathon: Steve Stevens sets world record (HD Video)

WORTHING, UK -- Nightclub manager Steve Stevens, 35, danced non-stop for 131 hours at his club Angelik in Worthing,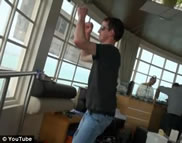 West Sussex - setting the new world record for the Longest dance marathon.

(enlarge photo)

The previous Guinness world record for the longest dance marathon by an individual was 123 hours and 15 minutes and was achieved by Kalamandalam Hemaletha (India).

Guinness World Records also recognized the longest dance marathon by a couple, performed by Francisco Petatán-Garcia and Joana Salinas-Aviles (both Mexico), who continuously danced for 35 hours in Acapulco, Guerrero, Mexicod.

Under rules set by Guinness World Records he was allowed a rest of five minutes every hour.

The former Ironman triathlete kept up his energy levels with a diet consisting of protein shakes, fruit, porridge, jacket potatoes, chips and lasagne, but still managed to lose a quarter of a stone over the five-day period.

Steve, who spent his time throwing shapes to dance music played by a team of 30 DJs, said: 'The hardest times were between 4am and 6am, when people were shouting at me to wake up.

'But as soon as the sun came up it got me going again.'

He raised £3,200 for hospices in Sheffield and Angmering, West Sussex.

Related world records:
Longest dance marathon: Kalamandalam Hemletha

Most snow angels made simultaneously: Nova Scotia (Videos)

First Beatles Masters Degree: Mary Kennedy

Longest Handshake: Team New Zealand and Team Nepal

Longest Name: Barnaby Marmaduke

Listening To The Same Song: Emil Ilic

Largest Operational Agricultural Plow: Manitoba Agricultural Museum

Longest Solo Handbell Marathon: Captain Ken Chapman

Longest Time Spinning Pillow On Finger: Derek Brown

Longest time survived underground after a mining accident: Chile miners

Lowest limbo by a woman: Shemika Charles

Largest Food Drive: "Fill the Bowl"

Monday, March 21, 2011