Tuesday, September 21, 2010

Largest Food Drive: "Fill the Bowl" sets world record

TACOMA, WA, USA -- Joining with the Pierce County Emergency Food Network and Seattle-based Northwest Harvest, the Stadium Centennial Foundation's Fill the Bowl event helped to collect 515,067 pounds of food that filled 15 tractor-trailers - setting the new world record for the Largest Food Drive at a single location in 24 hours.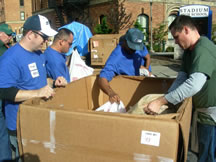 (enlarge photo)

The previous Guinness World record for theLargest Food Drive at a single location in 24 hours was 509,147 pounds in a 24-hour period, collected in Canada a few years ago.

The record drive was part of a day of activities including re-enactments, live music and dancing to celebrate the Tacoma landmark's 100th birthday.

"We are so excited," said Helen McGovern, Emergency Food Network's executive director. "It was such a huge undertaking and a wonderful opportunity to work on hunger relief."

Food and donations came in from throughout the Puget Sound region by hand, telephone and computer, she said.

Tacoma Mayor Marilyn Strickland and former Tacoma Mayor Bill Baarsma kept track of the pounds collected. McGovern said they were accepted by the Guinness Book of World Records as official counters.

Several hundred volunteers worked to collect and stack the food. All food collected had to cross over a line near the Stadium Bowl to be counted.
Two donors paid $12,000 each to buy an entire semitrailer full of food. Others spent $6,000 to buy a half-trailer.


(enlarge photo)

Both EFN and Northwest Harvest had bulk food ready in trucks to be purchased with donations.


Fill the Bowl had an ambitious goal of a million pounds of food collected in 24 hours, which would have nearly doubled the record. Setting the record and bringing it to America was good enough, McGovern said.

While more than 500,000 pounds of food sounds like a lot, she said there is a big need out there.The amount collected represents what EFN alone distributes in two weeks, she said. Last month, EFN distributed 1.1 million pounds to food banks, McGovern said.

"The enthusiasm was unbelievable," said Claire Acey, a spokeswoman with Northwest Harvest.

Link: Fill the Bowl on Facebook

People who want to donate to a food bank should consider bringing high-need items such as canned soups, stews, peanut butter and baby food, she said. All the food collected in Fill the Bowl will stay in Western Washington, with EFN and Northwest Harvest splitting the amount collected, Acey said.

Subscribe to our free RSS News feed to receive updates.
Related world records:
Most cars washed by a school - Bloomington High School South

Largest Water Initiative - Dow Live Earth Run for Water

Most plastic bottles collected - Florida students

Most Volunteer Hours - Donn Moss

Most Hugs Given in 24 Hours - Jeff Ondash

Most whole blood donations - Phil Baird

Biggest support for charity-Justin Timberlake

Most saplings planted in one day - Assam villagers

Most books donated - Rotary International

Biggest individual supporter of schools - Husnu M. Ozyegin

Tuesday, September 21, 2010