Thursday, January 6, 2011
Listening To The Same Song: Emil Ilic set world record
SKOPJE, Macedonia--During his 204 km long non-stop walking marathon, Emil Ilic, 50, listened the song "Si Bastasen Un Par De Canciones" by Eros Ramazotti, non-stop, 413 times in 36 hours - setting new world record for Listening To The Same Song.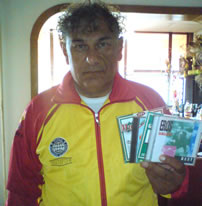 (enlarge photo)

Emil Ilic has successfully passed the whole length of the Republic of Macedonia during the Longest Non-stop walking hill marathon.

"I am a big fen of Eros Ramazzoti, since the first time I listened his first album. In general, I love Italian music and have a huge collection of Italian musician, he says.

"Eros Ramazotti is quite famous in my country. This is a country where good music is appreciated. I have the complete album collection of Eros Ramazzoti.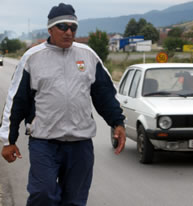 "The song Si Bastasen Un Par De Canciones I love the most because a lot of good memories are connected with this song.

(enlarge photo)

"I propose to my wife at Ramazotti's concert in Italy at the exact time when he performed this song.

" I feel an extraordinary energy every time I listen to this song, especially when I train for my marathons – and during my marathons. This is why I decided to listen only to this song over and over again during my previous marathon."

Guinness World Records recognized "The largest simultaneous sing along", achieved by more than 105,000 fans who sang along to Queen's "We Will Rock You" during Germany's match against Argentina at FIFA Fan Fest Berlin at Olympic Stadium in Berlin, Germany.

The Guinness world record for The most pieces of music performed in 24 hours by a group is 101, achieved by Stardust Revue (Japan) at the Tsumagoi Multipurpose Arena in Shizuoka, Japan.

Subscribe to our free RSS News feed to receive updates.

Related world records:
Longest Elvis Presley Song-Playing Marathon-DeeJay CJ

Largest Operational Agricultural Plow - Manitoba Agricultural Museum

Most Beautiful Woman- Miss USA Alexandria Mills sets world record

Longest Solo Handbell Marathon - Captain Ken Chapman sets world record

Longest Time Spinning Pillow On Finger - Derek Brown

Longest time survived underground after a mining accident - Chile miners

Fastest relay race in stiletto heels - Australian women

Lowest limbo by a woman - Shemika Charles

Largest Food Drive - "Fill the Bowl"

Thursday, January 6, 2011