Most tattoos done in 24 hours-world record set by Kat Von D

[Dec 20] LOS ANGELES,CA, USA-- LA Ink star Kat Von D successfully set a new World Record for the most tattoos done in 24 hours: 400!


This is an amazing feat for the 25-year-old tattoo artist, especially since the process was not without some rough patches.

With lines forming almost 48 hours in advance, people flocked from as far away as Ohio to be apart of tattoo history.

(enlarge photo)

Apparently, she wasn't able to accommodate all of the people who came down to her tattoo shop on the special day, and on Sunday, she posted an apology on her MySpace blog, explaining that she did not expect such a large crowd to show up.

Per the Guinness guidelines, Von D only inked one design, a Guinness-approved "LA" logo, on a first-come-first-served basis at a cost of only $20.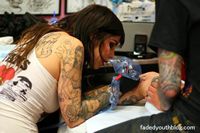 "When we first started getting the idea of setting this record, it was very important for me to try my hardest to include everyone in on this experience, especially my fans," she said in her blog post.
(enlarge photo)
"When I posted the bulletin/blog about the record i was gonna attempt, I felt like it would be so cool to have people come down that ive either already met at one point or another, as well as some that I've never met. BUT, I definitely did not plan on having as many people show up."

At one point, there were approximately 1,000 people waiting in line, and police were compelled to tell the crowd to leave.

Aside from dealing with onslaught of people and city officials, Kat Von D was also trying her best to tattoo as many people as she could. She was so determined to reach her goal that she kept her liquid consumption to a minimum, "put on nicotine patches" to curb the urge to take cigarette breaks, and took only three 3-minute breaks throughout the entire process.

According to her MySpace page, the accomplishment was quite an undertaking. She blogged about the great turnout, the not-so-great sheriffs and fire marshals and about completing her goal of tattooing 400 people in a 24 hour period.

Kat also raised money for charity along the way. Proceeds from the hopefully record setting event will be going to the non-profit Vitamin Angels, which "provides supplements to developing countries and communities that are in dire nutritional need."

Links: Kat Von D on MySpace ; Kat Von D website

NEW RECORD:
Most tattoos given in 24h-world record set by Robbie The Coon
Related World Records:
Longest Time Spinning Pillow On Finger - Derek Brown sets world record

Longest time survived underground after a mining accident - Chile miners

Fastest relay race in stiletto heels - Australian women sets world record

Lowest limbo by a woman - Shemika Charles

Largest Food Drive - "Fill the Bowl" sets world record

Most dogs in costumed attire - Scarborough dogs

Most 'high-fives' in an hour - Hoffman Estates High School students

Oldest dance school graduate - Frederick Salter

Longest Catwalk - The Copenhagen Fashion Week

Most cars washed by a school - Bloomington High School South

Most Ganesha Idols Hand Made in 24 Hours - Rama Shah

Longest street party - 'Still Life'

Building the most sandcastles in one hour - Lewis Manning Hospiceworld

Loudest vuvuzela blow by a crowd - Hoogezand-Sappemeer

Wearing most underpants - Jack Singer

Most Expensive Diamond Tattoo - jeweler Yair Shimansky

Most people receiving a chair massage in 24 hours-Romano Sandee

Most Four Leaf Clovers Found in 15 Mins -John Stokes

First concert for dogs - 'Music for Dogs' concert

Most lipstick applications - Estée Lauder

Most Tattooed Woman - Julia Gnuse

Most T-Shirts Worn at One Time - Kruno Budiselic

Most Four Leaf Clovers Found in the Fastest Time - John Christian Stokes

Largest Water Initiative - Dow Live Earth Run for Water

Most plastic bottles collected - Florida students

Most Volunteer Hours - Donn Moss

Wearing most underpants at once - Gary Craig

Oldest Sex Toy - German siltstone phallus

Longest Hug - Faisal Mohyud-Din and Mohammed Azeem

Highest Launch of a Jewelry Collection – H'Art Design Ltd.

Most Hugs Given in 24 Hours - Jeff Ondash

Most whole blood donations - Phil Baird

Most Expensive Bride - Deven Trabosh

Longest time spent watching sports TV- Jeff Miller

Biggest support for charity-Justin Timberlake

Longest Freestyle Rap - M-Eighty

Longest Consecutive Massage Treatments - Costa John

Oldest couple to divorce - Bertie and Jessie Wood

Longest time spent in hotels - David and Jean Davidson

Highest Cabinet Meeting - Nepal cabinet

Most sky lanterns flown simultaneously - Indonesia

Fastest window cleaner - Terrry "Turbo" Burrows

Most Ganesha Idols Made in 99 days - Rama Shah

Smallest Tattoo of a painting - Wingnut

Oldest college graduate - Chao Mu-he

Longest career as a weather forecaster - Dave Devall

Most married woman - Linda Wolfe

Most kisses in one minute - DJ Paul Winstanley

Longest marriage for a living couple - Herbert and Zelmyra Fisher

Longest speech - Lluis Colet

Most popular Inauguration - Barack Obama inauguration

Largest Outdoor Tea Dance - Glasgow

Largest calligraphy lesson - Taipei

Most lambs sheared - Marg and Ingrid Baynes

Largest Secret Santa exchange - Boots

Most henna tattoos in an hour - Pavandeep Ahluwalia-Hundal

Longest personal name - Captain Fantastic

Most expensive presidential campaign - US Election

Fastest pumpkin carver - Steven Clarke

Longest movie-watching marathon - Suresh Joachim and Claudia Wavra

Longest poker playing marathon - Dave Cain

Most lighted candles on a cake - the disciples of Mr. Chinmoy

Most wheat harvested in 8 hours - Farmeco

Biggest fireworks show on the barge - Fireworks do Brasil

Longest outdoor preach - Revd Eric Delve

Longest Ironing Marathon - Ben Walton

Most saplings planted in one day - Assam villagers

Biggest comedy audience - Mario Barth

Longest game of Chinese Whispers - British kids

Biggest family tree - Roy Blackmore

Most Seats Sat in 48 Hours - Jim Purol

Most bird calls imitated - Gautam Sapkota

Most books donated - Rotary International

Most movies watched - Ashish Sharma

Youngest college professor - Alia Sabur

Longest continuous play of a single FPS - The Frag Dolls

Biggest individual supporter of schools - Husnu M. Ozyegin

Longest distance pushing a car - Ashrita Furman

Most tattoos given in 24h - Robbie The Coon

Most Math questions answered - worldwide students

Fastest cocktail mixing - Bobby Gleason

Most kisses in the skies - SkyEurope

Most ballon sculptures - John Cassidy

Longest singing marathon - Mandd Sobhann

Longest non-stop Elvis impersonation - Suresh Joachim

Youngest Person Performing Carnatic Music on the Violin - Sandeep N Bharadwaj

[ Submit a world record ] [ World Record Certificate]


Fastest Jump Shooter in Billiards-Rocky Lane


Largest miniature railroad-Miniatur Wunderland


Fastest race around the 'World'-Rohan Veal