Saturday, January 9, 2010

Most Expensive Bride - Deven Trabosh sets world record

PALM BEACH GARDENS, Fla, USA -- Deven Trabosh, 42, a single mother of two girls has been divorced for eight years and decided to combine the search for a husband and the sale of her house into one; she listed her home (at $340,000) and her love
($500,000) for sale on Craigslist and eBay -setting the world record for the Most Expensive Bride.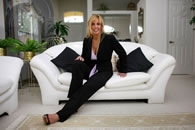 Photo: 42-year old Deven Trabosh is an attractive blonde who's tried dating sites and singles bars, before switching to online real estate ads to find love. / AFP (enlarge photo)

"I figured let's combine the ad because I'm looking for love and I'm looking to sell the house," said Trabosh, a single mom who looks like Barbie and teeters around in a miniskirt and high heels.

The 42-year-old single mother tried dating sites, bars but none of that worked. Her home is listed at $340,000 on Craigslist and eBay, if you want to add her to the deal, it will cost $500,000.

"Marry a Princess Lost in America," Trabosh wrote in the ads she posted on eBay and Craigslist. She describes a life of romance and travel and a home decorated with vaulted ceilings, upgraded tile and a soaking tub in a gated community with a pool and tennis courts.

The Most Expensive Bride also tried eBay but the company removed the listing because they say they don't let people sell themselves on the website.

She listed the home for $340,000 on a sell-it-yourself Web site, but upped the price, adding a $500,000 shipping fee to include her companionship on eBay.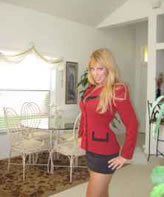 Trabosh hasn't received any serious offers, but says she's had nearly 500 responses, mostly positive, including one from Ottie of Surrey, England, who e-mailed to say, "You are offering the perfect life with the perfect American princess."

(enlarge photo)

She whips out her laptop to show off a picture of Claudio, a handsome Italian wine and cheese taster, who she's been corresponding with since he responded to the ad. Seated on a white leather love seat in her living room, she giggles almost girlishly about him.

Trabosh, a licensed real estate agent who hasn't practiced in years, knew she would struggle to sell the home in the troubled real estate market, but insists her fairytale ad isn't just a sales gimmick.

"I'm not selling myself. I'm selling love…to meet that true love," Deven told reporters. "Of course, it's gonna take more chemistry and connection. It's not going to be instantaneous that I'm just going to be automatically for sale…it's a package deal for true love."

"I'm struggling…I don't want to lose my house and I want to find somebody," said Deven Trabosh, who changed her name in the ad to Dee Traboscia to keep people from finding her in the phone book. "So I came up with this dream plan because I've always dreamt about being a fairytale princess."
Her 21-year-old daughter Haley says she just wants her mom to find love, but her 14-year-old daughter says her mother is embarrassing her.
Her Internet ads, meanwhile, have led to hundreds of e-mails from as far as Russia, Trabosh said. One read: "Forget the house, let me see pictures of the woman." Another: "You're so beautiful, I can't believe you're not taken."

"I may not be perfect," Trabosh said, "but I've got my stuff together."

Ideally, the Most Expensive Bride hopes a European man will close the deal and says she's willing to move overseas. "I know I'm putting myself out there. I'm sincere. I believe in true love," she says. "I want to get married again."


Related world records: Wedding world records

Saturday, January 9, 2010