Wednesday, September 29, 2010


Fastest relay race in stiletto heels - Australian women sets world record

SYDNEY, Australia--Four Australian women from Canberra: Brittney McGlone, Laura Juliff, Casey Hodges and Jessica Penny (known as the Pinkettes) completed a 263-foot (80-meter) course near Sydney's Opera House in about one minute and four seconds while wearing 3-inch (7.5 centimeter) stilettos - setting the new world record for the Fastest relay race in stiletto heels.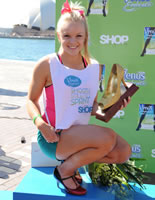 Photo: Two-time stiletto race champion Brittney McGlone. (enlarge photo)

The women — known as the Pinkettes — say they plan to use their 10,000 Australian dollar ($9,600) prize for a trip to Thailand.

A record keeper from Guinness World Records presented them with a certificate.

Miss McGlone, a hurdling champion, said before the race that the secret to running in heels was to get up on your toes.

About 100 women — and one man — competed in the race, which helped raise money for the National Breast Cancer Foundation.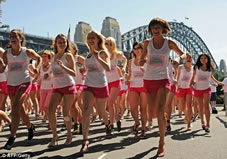 (enlarge photo)

Darren Kelly was the only man to take part, strapping on a pair of size eight heels with regulation 3-inch heels.

Former Miss Australia Erin McNaught was on hand to ensure that all heels measured at least 7.5cm - and that everyone's legs were sufficiently smooth (except for Darren's, that is).

A cheque for $20,000 was presented to the National Breast Cancer Foundation, $1000 of which was raised on the day.

Subscribe to our free RSS News feed to receive updates.
Related world records:
Most people running in stilettos - New York

Most people running in a "Stiletto Sprint''-Australia

Lowest limbo by a woman - Shemika Charles

Largest Food Drive - "Fill the Bowl" sets world record

Most dogs in costumed attire - Scarborough dogs

Most 'high-fives' in an hour - Hoffman Estates High School students

Oldest dance school graduate - Frederick Salter

Longest Catwalk - The Copenhagen Fashion Week

Most cars washed by a school - Bloomington High School South

Most Ganesha Idols Hand Made in 24 Hours - Rama Shah

Longest street party - 'Still Life'

Building the most sandcastles in one hour - Lewis Manning Hospiceworld

Wednesday, September 29, 2010