Friday, December 30, 2011

Largest OLED TV Panel: 55-inch OLED TV sets world record (Video)

SEOUL, Korea -- LG Display [NYSE: LPL, KRX: 034220], announced that it has developed a 55-inch OLED(Organic Light Emitting Diodes) TV panel - which sets the new world record for the Largest OLED TV panel, according to World Record Academy (www.worldrecordacademy.com).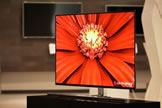 Photo: LG has announced it'll be showing off the world's largest OLED television at CES 2012 in January. The panel measures 55-inches and is just 5mm thick. All Photos: courtesy LG. (enlarge photo)

The Guinness world record for the Largest TV sculpture was set by Gintaras Karosas who created a sculpture entitled "LNK Infotree" using 2,903 individual television sets, spanning 3,135 sq metres (33,744.85 sq ft) at the Open Air Museum in Vilnius, Lithuania.

Guinness World Records also recognized the world record for the largest TV audience for a wedding, which occurred on 29 July 1981, during the marriage of HRH Prince Charles to Lady Diana Spencer (both UK), which was seen by an estimated 750 million people in 74 countries.

The 55-inch panel is a significant step forward in the popularization of OLED TVs and demonstrates the effective application of AM OLED technology to larger panel sizes at a more cost efficient level.

"Our objective has always been to actively define and lead emerging display technology markets," said Dr. Sang Beom Han, CEO and Executive Vice President of LG Display.

"Although OLED technology is seen as the future of TV display, the technology has been limited to smaller display sizes and by high costs, until now. LG Display's 55-inch OLED TV panel has overcome these barriers."

Superior Image Quality in an Ultra Thin Design LG Display's 55" OLED TV panel produces remarkable image quality with no after image due to its high reaction velocity, as well as high contrast ratio of over 100,000:1 and wider color gamut than that produced by LCD panels.

OLED, a medium that controls pixels is a departure from LCD panels which utilize liquid crystals. The new technology allows light emitting diodes to self-generate light and features a reaction velocity to electric signals over 1000 times faster than liquid crystal.

The environmentally conscious will also appreciate LG Display's 55" OLED TV panel. While light sources in backlight units, like LCD panels, must always be kept on, the OLED panel allows diodes to be turned on or off which enables lower power consumption than conventional LCD panels.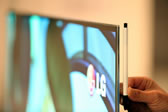 Photo: LG's 55-inch TV is pencil-thin. (enlarge photo)

With no need for a special light source, LG Display's 55" OLED TV panel is also able to utilize a simplified structure thinner than that of a pen (5mm), and lighter than LCD panels. The panel's minimalist structure also allows for the realization of unique design elements.

Related world records:
Smallest steam engine: German scientists sets world record

Lightest material: Ultralight Metallic Microlattice sets world record (Video)

Largest Flashlight: Germany (HD Video)

Largest hi-fi system: AeroDream ONE sets world record (Video)

Most powerful handheld laser: Wicked Lasers (Video)

Oldest Light Bulb: Livermore firehouse light (Video)

Fastest robot to solve a Rubik's Cube: Robot Ruby (Video)

Largest Rube Goldberg machine: Purdue University (Video)

Most Advanced Humanoid Robot: ASIMO

Smallest Christmas card: University of Glasgow

Oldest working electric hairdryer: British hairdryer

Largest Tidal Turbine: AK1000

Smallest 1080p HD image sensor: OmniVision

Smallest Telemedicine Microscope: CNSI

Smallest Digital Camcorder: Muvi Atom

Thinnest on-Wall Speaker: Mytos XTR-50

Fastest ultraportable laptop: X201 ThinkPad

Largest iPod: Jonathan Ive

Largest 3D Plasma Display: Panasonic

Most patents by a university: Far East University Taiwan

Largest Revolving Christmas Star: Siemens Superstar

Fastest wind-powered car: The Greenbird

Most efficient single junction solar cell: QuantaSol

Longest and highest non-stop cable car: Ba Na Hills

Most advanced home flight simulator: Matthew Sheil

Largest Zoetrope: BRAVIA-drome from Sony

Smallest Helicopter: GEN H-4

Fastest street legal car - G-Force

Fastest PC - Fi7EPOWER MLK1610

Fastest processor - Intel Core i7

Smallest satelitte messenger - SPOT

Largest Lite-Brite Picture - ASICS

Biggest printed digital image - Base3

Longest unmanned flight - Zephyr

Smallest humanoid robot - BeRobot

Largest periodic table of elements - Fossil Ridge students

Most successful piles surgeries - Sudershan Chugh

Most efficient bacteria test - Mobidiag

Longest Pi Chain - Qatar International School

Longest model of a DNA gene - Huddersfield University

Fastest diesel motorcycle - The Diesel Dozen

Largest number of crawler tractors - Otago Club

Longest Scanned Document - Trūper scanner

Highest efficient solar-to-grid convertor - SES

Fastest Storage - Texas Memory Systems

Fastest road-legal BMW - G-Power

Darkest material - Rensselaer Polytechnic Institute and Rice University

Lowest power chipset - Silicon Line

Longest lasting alkaline battery - Evolta

Friday, December 30, 2011