Wednesday, December 7, 2011

Most water balloons burst by a car: Alfa Romeo MiTo sets world record (HD Video)

LONDON, UK -- The Italian based automaker Alfa Romeo has launched a new campaign where its MiTo Quadrifoglio Verde, with the professional stunt driver Terry Grant behind the wheel, went through 2.734 water balloons like a charm during a stunt called the MiTo Aquabatic Challenge , setting the world record for the Most water balloons burst by a car, according to World Record Academy (www.worldrecordacademy.com).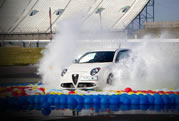 Photo: The Alfa Romeo MiTo has set a brand new world record for the highest amount of water balloons burst by a car.
(enlarge photo)

The Guinness world record for the largest parade of Alfa Romeo cars consisted of 312 vehicles and was organized by Allams Alfa Romeo (UK) in Epsom, UK.

Guinness World Records also recognized the world record for the longest balloon chain; it measured 20,024 m (65,695 ft 4.88 in) and was achieved by Future Generali India Life Insurance Co. Ltd. & Future Value Retail Ltd. (Big Bazaar) in association with G2rams India Pvt. Ltd. (all India), in Mumbai, India.

To celebrate the launch of the new Alfa MiTo Quadrifogolio Verde, Alfa Romeo constructed its iconic serpent and cross logo using over 2500 water balloons for a unique social media campaign.

Even if Alfa Romeo didn't say how much time Terry Grant needed in order to burst the water balloons, the professional stunt driver, who already holds 20 world records, managed to leave only four out of 2.738 balloons standing.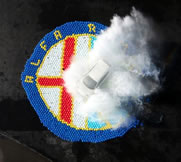 (enlarge photo)

The action was captured using the latest pre-production Red Epic slow-mo camera. Damien Dally, Head of Alfa Romeo UK said, "Engaging with our diverse fan base and bringing in a new generation of Alfisti through interactive campaigns like this is a key ingredient to our continued growth. Above all, we've been able to creatively demonstrate the nimbleness and performance ability of the MiTo Quadrifoglio Verde…and, have great fun doing so."

Note on Video: That was a professional driver on a closed course, you shouldn't attempt it yourself.

Alfa Romeo MiTo Aquabatics: Car driving over water balloons in slow motion VIDEO

Related world records:
Largest Alfa Romeo Parade: Allams Alfa Romeo

Riding unicycle on beer bottles: Lutz Eichholz sets world record (Video)

Most back wheel pogo hops: Ben Hoyle

Most consecutive donuts (spins) in a car: Terry Grant

Fastest Time to Balance a Dozen Eggs: Brian Spotts (HD Video)

Longest car drift: Mauro Carlo (HD Video)

Heaviest bee suit: Zhang Wei

Most Pencils Stuffed In A Mouth: Dinesh Shivnath Upadhyaya

Longest bicycle wheelie: Aaron Stannage
Fastest bicycle wheelie: Jake Drummond
Longest Backwards Limbo Skating Under Bars: Abhishek Navale
Most people walking on stilts: Cirque du Soleil
Longest farm tractor wheelie: Mike Hagan
Driving a car through the smallest gap: Dave Ackland
Longest farm tractor wheelie: Mike Hagan
Longest stone throw: Ray Oster
Longest Tram-pulling stunt
Most bricks broken in a single strike: Dan Netherland
Most coconuts broken: Sarada Lahangir

Wednesday, December 7, 2011