Longest stone throw -world record set by Ray Oster

[Sep 8] WINSTON, Oregon, US--Sixty three year old Ray Oster set the world record for his age group throwing the Braemar Stone in celtic games in Carson City's Centennial Park.His throw of 30 feet, 4-¾ inches broke a mark that had stood for about 10 years.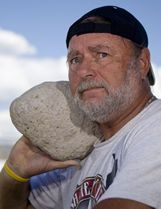 "I've been kind of surprised," Oster said. "I've won quite a few contests against guys who have competed a lot of years."

Oster trains with a strenuous weightlifting program, similar to how any track thrower would train. Oster trains two to three times a week with another local competitor, Dennis Morrison, whom he met at the first games he competed in at Grass Valley, Calif. "He has really helped me and coached me," Oster said.

He competes in the masters class 60-64 age group.

However, weighing 260 pounds, Oster is at a size and weight disadvantage against many throwers. "A lot of these guys are over 300 pounds, and everybody I throw against is stronger than me," he said. "I can only bench 265 and these guys bench over 400 pounds."

The Braemar stone is similar to the shot put in track and field, except an actual stone is used, weighing 22 pounds. It is thrown from a standing position like a shot put.

Highland games are events held throughout the year as a way of celebrating Scottish and Celtic culture and heritage, especially that of the Scottish Highlands. The games consist of nine events, including the two stone throws, two hammer throws for distance, two different weight-for-distance throws, weight-for-height, a sheaf toss and Caber toss.