Wednesday, September 7, 2011

Most powerful handheld laser: Wicked Lasers sets world record (Video)

BEIJING, China -- The S3 Krypton from Wicked Lasers delivers enough punch to send a beam 85 miles, and at 86 million Lux, they claim that it's spot is 8,000 times brighter than the sun as seen from Earth , setting the world record for the Most powerful handheld laser, according to World Record Academy (www.worldrecordacademy.com).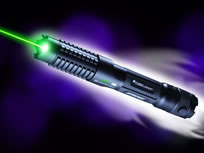 Photo: The most powerful handheld laser in the world has 1W of power. That makes it 8,000 times brighter staring directly at the sun and it has 86 million lux. (enlarge photo)

The Guinness world record for the highest intensity focused lser was set by The Hercules Petawatt Laser at the University of Michigan, USA, which can produce a focused laser beam with an intensity of 2 x 1022 W/cm2 (20 billion trillion watts per square centimeter).

Guinness World Records also recognized the world record for the Most powerful laser by output in terms of wattage is the Texas Pettawatt Laser at the University of Texas, whcih achieved an output of one petawatt, or 1,000,000,000,000,000 Watts.

The World's Most Powerful Handheld Laser has a range of 85 miles, which means the beam could leave our atmosphere.
Therefore, Wicked says that you should not aim the laser at satellites in orbit because it could mess up the sensors on an orbiting satellite. The laser could also blind pilots.

Inside of the aircraft grade aluminum chassis, aside from the laser itself, is a an internal thermopile detector that detects the operating temperature and can gradually lower the S3′s output, ensuring that you don't fry your hand off.

Other features include a Smartswitch which can lock out unauthorized users and up to 9 operation modes – including 5 new tactical modes – SOS (Hi/Low), Beacon (Hi/Low), and Tactical Hibernation.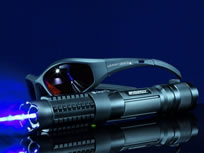 Wicked Lasers produces some of the most powerful laser pointers on the market today.

(enlarge photo)

The most powerful handheld laser in the world has 1W of power. That makes it 8,000 times brighter staring directly at the sun and it has 86 million lux.

The world's most powerful handheld laser laser uses special thermopile detector that lowers power to keep temperatures in line. The body of the laser is aluminum for rugged design. It sells for $999.95 (USD) in 1W form, $299.95 in 300mW, with a 500mW middle ground for $499.95.

The Arctic III will set you back $299 and can be found at www.wickedlasers.com.

Related world records:
Oldest Light Bulb: world record set by Livermore firehouse light (Video)

Fastest robot to solve a Rubik's Cube: Robot Ruby sets world record (Video)

Largest Rube Goldberg machine: Purdue University (Video)

Most Advanced Humanoid Robot: ASIMO

Smallest Christmas card: University of Glasgow

Oldest working electric hairdryer: British hairdryer

Wednesday, September 7, 2011