Saturday, July 4, 2009


Longest domain name-world record set by Llanfairpwllgw- yngyllgogerychwyrndrobwll-Llantysiliogogogoch.com

Llanfair PG, Wales, UK -- The 58 letters-name of a small village in Wales, Llanfairpwllgwyngyllgogerychwyrndrobwll-
Llantysiliogogogoch.com , which is also a domain name, sets the world record for the Longest single word domain name.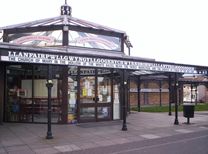 Photo: Residents of the village - whose name means St Mary's church in the hollow of the white hazel near a rapid whirlpool and the Church of St Tysilio of the red cave (click here to hear it pronounced)- now hope that visitors from all over the world will be able to learn more of their community.
(enlarge photo)

Thousands of visitors each year visit the small village of llanfairpwllgwyngyllgogerychwyrndrobwllllantysiliogogogoch made internationally famous through is tongue-twister of a name.

Be sure to visit the restored Victorian railway station which contains a huge selection of woollens and craft items for sale and be photographed beside the longest place name in the world.

The village is no stranger to self-promotion - the name itself was a publicity stunt.

It is believed that the name Llanfairpwllgwyngyllgogerychwyrndrobwllllantysiliogogogoch was invented by a cobbler from Menai Bridge; little did he know that he had implemented one of the most successful tourist marketing plans of all time.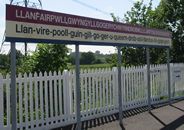 Until the 19th century the village on the island of Anglesey was known as Llanfair Pwllgwyngyll (St Mary's church near the pool by the white hazels).

(enlarge photo)

But with the advent of the railways and the development of a line between Chester and Holyhead, a local committee was formed to devise ways of attracting trains and tourists to the area.

Unfortunately, it is not clear who actually came up with the new name, but it is thought to be the invention of a cobbler from nearby Menai Bridge. The village now retains its original name on sign posts, but it is known in Wales as Llanfair PG.

If you want a laugh listen to a computer trying to say the name by clicking here!

Prior to October 1999 it was not possible to register .com domain names longer than 26 characters (including 4 for the .com suffix). This denied many businesses and organisations the ability to register their full trading names as a .com domain name. However in October 1999, it became possible to register domain names up to 67 characters in length (including the 4 for the .com suffix).

NOTE: to apply for a new recordin this category:
- you need to justify your claim;
-you can not set a new record if your domain name is not related to something (like in this case, a village name).