Friday, February 26, 2010

Fastest ultraportable laptop- X201 ThinkPad sets world record

RESEARCH TRIANGLE PARK, NC, USA -- PC manufacturer Lenovo (HKSE: 992) (ADR: LNVGY) unveiled the Thinkpad X201 which use an Intel Core i7 processor running at 2.66 GHz to deliver speedy performance, making it "25 percent faster than the 2.13 GHz ceiling on other 12-inch enterprise ultraportables" and setting the new world record for the Fastest ultraportable laptop.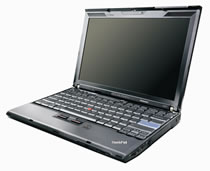 Photo: Weighing in at under 1.35 kilograms (2.97 pounds), the new X201 laptop is ultra portable and unlike netbooks that may be only slightly lighter, it is a full-performance computer and has more than 11 hours of battery life.
(enlarge photo)

The tablet X201 supports security tools including a fingerprint reader, anti-theft technologies and a self-encrypting hard drive.

Finally, the X201, along with a range of Lenovo's latest release models have been tested to military specifications, designed to withstand a range of environments, including heat, high altitude, shock and dust. Drop the X201 and life still (we hope) goes on.

"We're continuing to push the envelope on innovation to give our mobile customers faster, more powerful and smarter ThinkPad laptops," said Dhilip Bhatia, vice president of ThinkPad product marketing at Lenovo. "These PCs incorporate the latest computing technologies and extra Lenovo features to make the PC experience more simple and productive."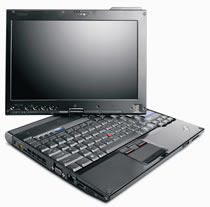 The X201s will downgrade the processor to a Core i5 - which isn't a serious slowdown - but improve the form factor and battery life, weighing less than 2.5 pounds and pushing the time between recharges to 12 hours of use.
(enlarge photo)

Based on Intel's Core i5 and Core i7 processors, the laptops include 12.1-inch screens and a runtime of up to 12.2 hours on 9-cell batteries. The X201 also includes a TV Tuner and noise cancelling headphones; the type of extras we usually expect on entertainment focussed machines. And given it's also expandable to 8GB of RAM, the X201 has some room to grow. There's also Windows 7 on board.

The ThinkPad X201, X201s, X201 tablet, W701, W701ds and ThinkServer TS200v are available beginning in March through business partners and www.lenovo.com. Pricing for models of the X201, X201s, X201 tablet, W701 and W701ds start at approximately $1,199, $1,599, $1,549, $2,199 and $3,799.

Subscribe to our RSS News feed to receive updates.
Related world records: Technology World Records

Cheapest Mobile - world record set by Vodafone 150

Largest iPod - Jonathan Ive sets world record

Largest 3D Plasma Display- Panasonic sets world record

Most patents by a university - Far East University Taiwan sets world record

Largest Revolving Christmas Star - Siemens Superstar sets world record

Friday, February 26, 2010