Longest unmanned flight-Zephyr sets world record

ARIZONA, USA -- The Zephyr, a solar powered high-altitude long-endurance (HALE) Unmanned Aerial Vehicle (UAV), created by UK defence and research firm QinetiQ, remained in the air for 83 hours and 37 minutes, setting a new world record for Longest unmanned flight.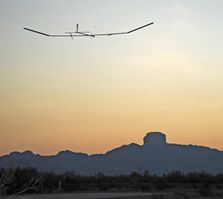 Photo: The flight trial at Yuma took place between 28 and 31 July in the harsh conditions of the Sonoran Desert in mid summer with temperatures up to 45°C (113°F). Zephyr was flown on autopilot and via satellite communications to a maximum altitude of more than 60,000ft. (enlarge photo)

Launched by hand, Zephyr is an ultra-lightweight carbon-fibre aircraft. By day it flies on solar power generated by amorphous silicon solar arrays no thicker than sheets of paper that cover the aircraft's wings. By night it is powered by rechargeable lithium-sulphur batteries, supplied by SION Power Inc, which are recharged during the day using solar power.

The trial included a military utility assessment of a US Government communications payload.

The flight beats the current official world record of 30 hours, 24 minutes set by the US robot plane Global Hawk in 2001 and the Zephyr's own previous record of 54 hours.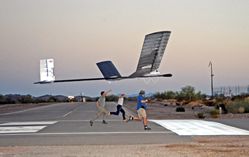 Photo: Zephyr has a carbon fibre frame and is covered in super-light solar arrays thinner than paper. Its rechargeable battery is twice as efficient as any other in the world. It is launched by three people holding it above their heads as they run. (enlarge photo)

Simon Bennett, Managing Director of QinetiQ's Applied Technologies business said: "The Yuma Proving Ground in Arizona was an appropriate setting for Zephyr's world beating flight as many landmark aviation developments have taken place there in recent years. In addition to setting a new unofficial record, the trial is a step towards the delivery of Zephyr's capability for joint, real-time, battlefield persistent surveillance and communications to forces in the field at the earliest opportunity."

The Ministry of Defence has funded the £20m development of Zephyr so far. The flight - partly autonomous and partly controlled from satellite - took place from July 28-31.
Davey said the challenge had been to make an exceptionally light aircraft - it weighs 30kg (66lbs) - strong enough to carry a payload of up to 2kg to about 60,000ft.
The 30kg plane has an 18-metre wingspan, looks like a giant model aircraft and is launched by hand.

Potential applications for Zephyr include earth observation and communications relay in support of a range of defence, security and civil requirements.

Hampshire-based QinetiQ are now working with aerospace giant Boeing on a defence project that would see the biggest solar-powered plane in history take to the sky.
The firm is also looking at civilian uses for the unmanned craft and recently completed the first flight for agricultural monitoring, in partnership with Aberystwyth University.

The solar powered plane flew for 82 hours 37 minutes, exceeding the current official world record for unmanned flight which stands at 30 hours 24 minutes set by Global Hawk in 2001 and Zephyr's previous longest flight of 54 hours achieved last year.

Photos: QinetiQ/HO

Monday, August 25, 2008