Lowest car - Perry Watkins sets world record

[May 5] WINGRAVE, UK--At 19in (48cm) tall the "Flatmobile", built by Perry Watkins, sets the world record for the lowest car.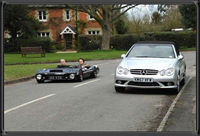 Photo: Perry Watkins has built the lowest street legal car measuring just 19 inches off the ground, called the 'Flatmobile'. (enlarge photo)

Built from a 1963 Hillman Imp with an added jet engine, the batmobile-inspired car took almost 18 months to build.

Mr Watkins said: "I've been building unusual cars for 25 years or so, so its my hobby, I enjoy doing it."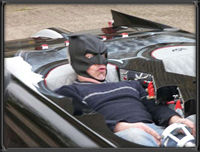 The car is based on comic-book hero Batman's Batmobile.

(enlarge photo)

In 1990 Mr Watkins built the "Impressed" also based on a Hillman Imp which stood at 26 in (66cm) and in 1999 he held the record with "Lowlife", built from a Mini, which was 24in (61cm) tall.

"The original car [a Hillman Imp] has been cut down by 30in in the body, the suspension has been lowered by 9in and the roofs been removed so its left us with a total height of 19in at the highest point," Mr Watkins said.
"The Batmobile had a jet engine so I thought 'great, lets stick a jet engine in' and built a jet engine and put that in the back as well.

"Cost I don't count because I get upset and depressed if I count - it's the wrong side of £10,000 anyway."

Flatmobile Tech Specs:
# Donor car 1963 Hillman Imp
# 30" height sectioned out from body
# Ground clearance 2"
# Height: 19"
# Length: 12'2" (17" longer than standard)
# Width: 5' 5"
# Combustion Engine: Hillman Imp 875 Sport
# Jet engine: DIY gas turbine
# Suspension rear: standard springs and shocks on rear but cut down
# Suspension front: Avro shocks with adjustable height 4" springs
# Wheels: Cosmic alloys 10x6J
# Tyres: Goodyear Eagles 205 x 50 x 10

THE JET ENGINE
The jet engine is fitted behind the internal combustion engine at the very rear of the car. It is a home built gas turbine jet engine based around a Holset 685 turbocharger from a Volvo FL10 lorry.
Main engine Fuel: Propane delivered at high pressure
After burner fuel: Aviation fuel delivered at 170 psi and 3.75 Lpm
Afterburner ignition - custom built 60,000 volts and enough milliamps to give you guaranteed heart failure if you get it wrong!

With both the main engine and the afterburner at full power the following stats apply:
Boost pressure - 30psi
RPM - 98,500
Compressor vane tip speed - 1450 ft per second (988 MPH) Decibels - Very Very LOUD !
Turbine outlet temperature - 1200 degrees F
Thrust 90LB Fuel consumption 6lb per minute (45 gallons per hour)

Lowest street legal car history:
# Ford GT40 40"
# 1985 Claustrophobia 28" by Andy Saunders
#1990 Impressed 26.5" by Perry Watkins & Danny Curtis
#1999 Lowlife 24" by Perry Watkins
#2006 Flat Out 21.5" by Andy Saunders
#2007 The Flatmobile 19" by Perry Watkins
Website: http://www.flatmobile.co.uk

Related:
Smallest car-world record set by Perry Watkins

Fastest street legal car-world record set by G-Force