Most durable phone-world record set by the Sonim XP1

SAN MATEO, CA, USA -- Designed to withstand the harshest punishment, the Sonim XP1 can be dropped, shocked, splashed and covered in dust without missing a call-and sets the world record for the Most durable phone.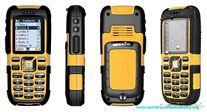 Photo: The Sonim XP1 (also known as JCB Toughphone in some markets) was created for the most challenging of environments and activities.(enlarge photo)

Bob Plaschke, CEO of Sonim comments: "If youíre standing on a construction site with a welding tool in your hand, or are sitting in a catamaran with a hard wind in your face, you really donít need a fashion accessory nor a multimedia monster, you need a dependable working tool like the new XP1, built for extreme conditions."
Hardened rubber is molded to the durable non-porous casing, keypad buttons are tested to 500,000 pushes, the screen has a scratch-resistant coating.

George McPherson, Chief Executive of Data Select comments: "The market has been demanding a no-nonsense mobile that can handle the knocks of an active lifestyle as well as dealing with the rigours of life on a building site. The JCB Toughphone is the answer; it's tough, easy to use and packed with modern technology. Just like a JCB!"

The Sonim XP1 (also known as JCB Toughphone in some markets) is officially proof against a stream of water, near 1.7-meter-high drop to concrete, and has an operational range from -20C to 60C.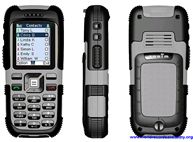 If you like the sound of owning a phone that is dustproof, shatterproof and water resistant but donít like the bright yellow colour of the JCB Tough Phone then the Sonim XP1 could be for you.

(enlarge photo)

This resilient unit also boasts a glare and scratch resistant screen making it perfect for any outdoor enthusiasts or workers who battle against the repetitive situation of replacing their mobile phone all too often.

Joakim Wiklund, co-founder of Sonim Technologies comments: "Research commissioned by us indicated that 70% of outdoor workers refrain from using their phones in the workplace because the phone might break, and 40% have broken their mobile phone in the last year, and common reasons are damage from humidity, dropping and crushing the phone. We are aiming to provide a solution to this problem."

We've seen it tossed and kicked around, run over by cars, treaded on by elephants, dropped in a cement mixer.

Finally, the USB port, ear jack and external antenna port are sealed with plastic caps so moist and dirt are kept away from those vulnerable points.

Key features:
* Shock, water and dust resistant (after all, we're talking the closest a phone has ever got to a weapon)
* Scratch resistant display
* Philips Nexperia 6120 platform
* Push-to-Talk
* Bluetooth v1.2 (Object Push and Headset profiles only)
* Tri-band GSM/GPRS phone
* 1000 SMS storage
* MP3 and WAV ringtones
* Very loud speakerphone
* 10 MB flash memory
* 2.5 mm audio jack
* Nice battery performance thanks to the Li-Ion 1100 mAh battery
* No-questions-asked 3 year warranty

The Sonim XP1 is built for anyone who requires equipment they can depend on, ideal for construction workers, lorry drivers, farmers and foremen.

Equally, the Sonim XP1 is perfect for anyone with an active lifestyle who requires a mobile phone that can take a few knocks. It should also survive most outdoor leisure pursuits, or possibly even a trip down to the pub.

The Sonim XP1 is arguably the most durable mobile phone ever made available to the general public.

Sunday, October 12, 2008