Most advanced home flight simulator-world record set by Matthew Sheil

SYDNEY, Australia -- Flight enthusiast Matthew Sheil has built a 747-400 flight simulator in his Sydney warehouse for about $200,000 US-setting the world record for the Most advanced home flight simulator.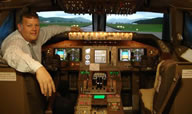 Photo: Matthew Sheil with his homebrew 747-400 world's Most advanced home flight simulator / photos by Joe Corrigan
(enlarge photo)

Thanks to 45 different software programs running on 14 different computers, the simulator allows Sheil to fly to and from 27,000 different airports around the world with breathtaking realism.

By day, Sheil runs a trucking parts company but at night he takes to the skies with other enthusiasts from around the globe. The simulator is stored at his warehouse in Chipping Norton.

The world's Most advanced home flight simulator is able to mimic real-world weather conditions in any country with startling accuracy, and the hydraulics system means Sheil can feel every bump.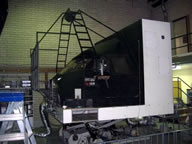 "When you taxi out on the runway you feel it bumping on the cracks in the pavement, you feel it when the wheels touch down," he said.
(enlarge photo)

In Sheil's simulator, computer screens replace the windows and if he is flying in the virtual world behind a person in Melbourne, and they are using a Qantas 767, "we actually see a Qantas 767 out the window - the software puts it in there for us - and he sees us".

Moreover, if Sheil flies through Russia, he is greeted by a volunteer Russian air traffic controller. Cars can be seen on the road when he comes in to land and people wave at him from the terminals.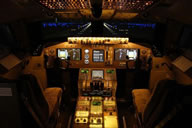 Sheil says it's sometimes easy to forget that it's a simulation.
(enlarge photo)

No one involved in virtual flying make any money from it.

In fact, all of the money Sheil earns by renting out his simulator for training is donated to the Royal Flying Doctor Service (RFDS).

The Most advanced home flight simulator cost him $300,000 to build - a far cry from the $60 million price tag on the professional simulators - but many of the parts were donated to him because of his charity work.

Every year, Sheil and scores of other simulator enthusiasts from countries including Britain, Scotland, USA and Austria, participate in an event called Worldflight (video here) to raise money for the RFDS.

Participants go to their nearest flight simulator - Sheil hosts about 15 people, some from overseas - and take part in a round-the-world-flight, taking legs in shifts for an entire week.

"They're here for the whole week and they'll be rostered on at certain times of the day to fly," he said.

"It's all done in real-world conditions - Qantas sponsors us and they provide airline food for a week."

Sheil is a veteran real-world pilot and owns a Beechcraft Baron B58. He said he preferred flying a real plane but enjoyed the Most advanced home flight simulator because there were no limitations.

Link: Matthew Sheil's 747 Simulator

Sunday, March 15, 2009

Related world records:
Most advanced bicycle-world record set by Factor 001

Largest working cell phone-world record set by Cricket

Largest Zoetrope-world record set by the BRAVIA-drome from Sony

Lightest mobile phone-world record set by Modu mini phone

Fastest street legal car-world record set by G-Force

Most durable phone-world record set by the Sonim XP1

Fastest heavy truck-world record set by Volvo NH

Longest micro-UAV flight-world record set by Pterosoar

Longest unmanned flight-world record set by Zephyr plane

Fastest jet-powered street luge-world record set by 'Tea Tray'

Fastest single-turbine engine plane set world record over Atlantic