Friday, April 9, 2010

Smallest Digital Camcorder - world record set by Muvi Atom

EASTLIGHT, Hampshire, UK -- The black aluminium-encased Muvi Atom digital camcorder (made by Veho) measures 3.98 x 1.98 x 1.49cm, wheights 39.6 grams, saves 640 x 480 AVI movies with audio in a Micro SD card (supports up to 8GB, includes a 2GB card by default), costs $US122 and sets the new world record for the Smallest Digital Camcorder.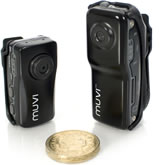 (enlarge photo)

The world's Smallest Digital Camcorder charges via USB and can act as a webcam with your PC or Mac. The Muvi Atom Digital Video Camera replaces the last, slightly larger camcorder from Muvi as an even tinier option.

The Smallest Digital Camcorder in the world boasts similar video quality to the popular Flip Mino camcorders.

That tiny little case packs a 2 GB microSD card (up to 8 GB worth of storage available), 640 x 480 resolution at 30 fps and voice-activation hardware.

Powered by an embedded lithium-ion battery, which can be recharged via the USB port on a PC, the Muvi Atom offers one hour of video or image capture.
Encased in a tough metal shell, maker Veho says the Atom is ideal for use in extreme sports such as mountain biking or snowboarding.

The device has a VOX mode that lets you speak your stop/start commands so you can record without having to touch the device.

The optional Extreme Sports Pack, which offers a collection of brackets, clips and straps that allow you to secure the camera to almost anything, from a helmet to handle bars, is ideal for those that like to take part in extreme sports.

Muvi even bundled the camera with software that allows you to edit the video you've captured.

Subscribe to our RSS News feed to receive updates.

Related world records: Smallest world records

Smallest satelitte messenger-world record set by SPOT

Smallest Helicopter-world record set by GEN H-4

Smallest humanoid robot-world record set by the BeRobot

Friday, April 9, 2010