Longest Scanned Document-world record set by Trūper scanner

[Feb 29]ORLANDO,FL,USA--Scanner company BÖWE BELL + HOWELL set the world record for the longest document scanned with a length of 3,875 feet.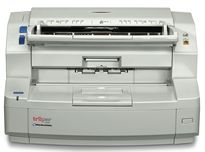 The record was set with the Tru-per 3600 low-volume production scanner. The scan took only 1 hour 17 minutes and 22 seconds.

(enlarge photo)

"BBH continues to push the bounds of document scanning, in this instance by completing a scan that was nearly three-quarters of a mile long," said Mandy Lewis, senior product manager at BÖWE BELL + HOWELL.

"With this record, we've again proved that BBH offers perhaps the most reliable, hardest-working scanners available — and we think our customers, who rely on BBH scanners day in, day out, would wholeheartedly agree."

This World record is aimed at impressing healthcare organizations. They need to be able to easily scan long, vital medical records, such as fetal monitoring strips and EKG printouts.

Trūper 3600
Trūper 3600 – The Trūper 3600 is a rotary only scanner. Don't be fooled by its compact size. With a 10,000 page daily duty cycle and 67 page per minute speed (62 ppm in portrait), it leads the industry in the low volume segment.
As for image enhancement, Trūper 3600 is bundled with two different versions of VRS to meet your scanning needs: VRS 4.1 Professional for auto-everything scanning, including Auto Rotation, Blank Page Deletion and Auto Color Detect.
In addition, Trūper 3600 is offered with VRS 4.1 Basic for those instances where auto-everything is not needed.


Link: BÖWE BELL + HOWELL site.