Sunday, August 16, 2009

Fastest wind-powered car-world record set by the Greenbird

Ivanpah Lake, Nevada, USA -- British engineer, Richard Jenkins reached a speed of 126.1mph (202.9km/h) in the Ecotricity 'Greenbird', a carbon-fibre model he designed himself-setting the world record for the Fastest wind-powered car.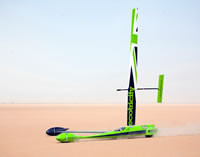 The futuristic Greenbird is the most advanced wind powered vehicle on Earth. A highly-evolved vehicle that uses a combination of technology found ordinarily on Aircraft and Formula 1 cars to achieve staggering speeds with no engine in sight - the record speed was reached in winds of just 30mph!
(enlarge photo)

The chosen name is a nod to Donald Campbell's all-conquering Bluebird.

The Greenbird is the fifth generation in a line of vehicles designed and built by Richard Jenkins on his ten year quest to break the world speed record.

The Greenbird vehicle was the culmination of ten year's design and development. The previous world record of 116 mph was set in 1999 by Bob Schumacher in the Iron Duck in March 1999 at the same location. The new world record has been ratified by NALSA (North American Land Sailing Association).

Testing has been carried out in the UK, Canada, America and Australia, in an attempt to track down the rare set of weather and natural surface conditions required to achieve maximum speed, but it turned out to be Ivanpah, 35 miles SW of Las Vegas, on the border between California and Nevada, that provided the opportunity almost exactly ten years after the old record was set there.

It has been an incredibly difficult challenge" commented Richard. "Half the challenge is technical, having to create a more efficient vehicle than the previous record holder, then the rest is luck, being in the right place, at the right time, to get the perfect conditions, with the right people watching.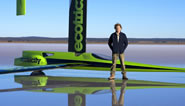 (enlarge photo)
I must have been on record standby at some remote location around the world for at least two months of every year for the past ten years. Today, everything came together perfectly and the Greenbird stepped up to the mark and performed amazingly. I am absolutely delighted".

In a north westerly wind of around 30 mph, the Ecotricity 'Greenbird' was able to use the maximum distance available on the lake, of almost 2 miles, to accelerate from rest up to record speed. Watched by over 100 land sailors, during the 'Americas cup' (land sailing) regatta currently taking place at Lake Ivanpah, the Greenbird became the fastest wind powered vehicle on the planet in spectacular fashion, beating the old record by ten miles an hour. Related world records:
High reach pantograph-world record set by Stone India

Most efficient single junction solar cell-QuantaSol sets world record

Smallest car-world record set by Perry Watkins

Fastest crossing of Cook Strait-world record set by Sealegs

Longest and highest non-stop cable car-Ba Na Hills sets world record

Cheapest car-world record set by the Tata Nano

Most advanced home flight simulator-world record set by Matthew Sheil

Most advanced bicycle-world record set by Factor 001

Largest working cell phone-world record set by Cricket

Largest Zoetrope-world record set by the BRAVIA-drome from Sony

Smallest Helicopter-world record set by GEN H-4

Lightest mobile phone-world record set by Modu mini phone

Fastest street legal car-world record set by G-Force

Sunday, August 16, 2009