Cheapest car-world record set by the Tata Nano

MUMBAI, India-- Ratan Tata, the chairman of Tata Motors, has launched the Tata Nano, a compact car , which will sell for 100,000 rupees ($2,500 or £1,277), setting the wold record for the cheapest car.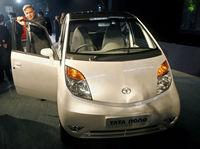 Photo: Motor boss Ratan Tata stands by his newest creation, the Nano, world's cheapest car

(enlarge photo)

The four-door five-seater car, which goes on sale later this year, has a 33bhp, 624cc, engine at the rear.

It has no air conditioning, no electric windows and no power steering, but two deluxe models will be on offer.

Mr Tata said he had been inspired by his fear for the safety of lower-middle-class families who ride four and five to a bike on India's dangerous roads, often with Sari-clad women sitting side-saddle while bouncing babies on their knees.

The snub-nosed, 4-seater 623cc rear engine car is an idea and dream project of Ratan Tata, who seeks to place his car as a milestone in humanity's auto history like Fords Model T, Volkswagens Beetle and the British Motor Corps Mini.

The company has unveiled a lottery system for prospective buyers of the first 100,000 cars, which it said will hit the roads in July. Would-be buyers must purchase application forms, and the successful applicants will be chosen randomly. Those who are unsuccessful will remain on a waiting list, with Tata hanging on to their cash.

The company also announced a State Bank of India-backed scheme which will allow poor buyers to drive home a Nano with an initial payment of around £40.

Tata will initially make about 250,000 Nanos and expects eventual annual demand of one million cars.

A European variant will be launched by 2011, and the company is also looking at the United States, as the current economic situation has made low-cost cars even more attractive, even though that had not been the original intention.

The Nano can be booked at more than 30,000 locations in 1,000 cities across India, including Tata-owned department and electronics stores, with booking forms costing 300 rupees each.

The price will be slightly more than the 100,000 once tax and other costs are taken into consideration.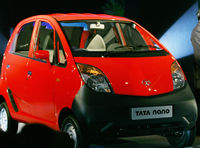 Photo:Tata Motors has unveiled the world's cheapest motor car at India's biggest car show in the capital Delhi last year.

(enlarge photo)

The Nano release comes as India's domestic car market is predicted to soar in the coming years on the back of the country's fast-growing economy and increased consumer wealth.
Indian car sales are predicted to more than quadruple to $145bn by 2016. Company chairman Ratan Tata said the launch of the Nano was a landmark in the history of transportation.

He said the car was "a safe, affordable and all weather transport - a people's car, designed to meet all safety standards and emissions laws and accessible to all".

The Tata chief, who drove a white Nano to the podium, said he had wanted to make "a safe, affordable and all-weather transport -- a people's car, designed to meet all safety standards and emissions laws and accessible to all."

Environmental critics have said that the car will lead to mounting air and pollution problems on India's already clogged roads. But Tata said the car had passed emission standards and would average about 50 miles to the gallon, or five litres per hundred kilometres.

The firm also said it would introduce a diesel version of the Nano at a later date.

Tata said he believed "India desperately needs a mass transit system" but asked "should [ordinary Indians] be denied the right to individual forms of transport?"

Auto analysts say the Nano could have a major impact on the way global car firms think about costs.

It may "revolutionize car costs downward," said Indian auto analyst Murad Ali Baig, adding that the Nano was bound to be followed by other low-cost cars.

The car has sparked a race among global automakers to come up with vehicles at rock-bottom prices to appeal to the new lucrative segment of consumers in India and other emerging markets.

Small cars comprise two-thirds of annual passenger vehicle sales in India. The budget car's nearest rival -- the Maruti 800 from Japanese-owned Maruti Suzuki -- sells for $4,800 US.

Tata, which has been on an aggressive overseas expansion drive, is also expected to win its reported two-billion-dollar bid for the British Land Rover and Jaguar brands.

TATA'S NANO specifications:
# 3.1m long, 1.5m wide, 1.6m high
# Can seat four to five people
# Meets European emission standards
# Costs 100,000 rupees ($2,500)
# Tata hopes to eventually export the car
# Tata Motors Ltd on Bombay Stock Exchange


Related world records:
Most advanced home flight simulator-world record set by Matthew Sheil

Most advanced bicycle-world record set by Factor 001

Largest working cell phone-world record set by Cricket

Largest Zoetrope-world record set by the BRAVIA-drome from Sony

Lightest mobile phone-world record set by Modu mini phone

Fastest street legal car-world record set by G-Force

Smallest satelitte messenger-world record set by SPOT

Largest Lite-Brite Picture-world record set by ASICS

Most durable phone-world record set by the Sonim XP1

Longest unmanned flight-Zephyr sets world record

Smallest humanoid robot-world record set by the BeRobot

Most efficient bacteria test-world record set by Mobidiag

Longest Pi Chain-world record set by Qatar International School

Longest model of a DNA gene-world record set at Huddersfield University

Longest Scanned Document-world record set by Trūper scanner

Highest efficient solar-to-grid convertor-world record set by SES

Fastest Storage-world record set by Texas Memory Systems

Fastest road-legal BMW-world record set by G-Power

Darkest material-world record set by Rensselaer Polytechnic Institute and Rice University

Lowest power chipset-world record set by Silicon Line

Longest lasting alkaline battery-world record set by Evolta

Fastest electric vehicle-world record set by Altairnano

Shortest Chemical Bond Between Metals-world record set by UD researchers

Fastest heavy truck-world record set by Volvo NH

Monday, March 23, 2009