Sunday, September 19, 2010
Longest barbeque marathon - world record set by Jan Scannell
CAPE TOWN, South Africa -- Braai 4 Heritage's Jan Scannell, who is also known as Jan Braai, used 300kg of meat and spent 28 hours and 30 minutes braaing nonstop at the V&A Waterfront in Cape Town - setting the new world record for the Longest barbeque marathon (Longest braai).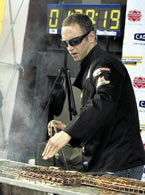 (enlarge photo)

The previous Guinness World Record for the Longest barbeque marathon was 28 hours and 26 minutes, held by a German.

Scannell, who is also known as Jan Braai, said it "felt fantastic" to have beaten the previous world record.

"(The record) is now in its rightful home. Now we have to make sure it stays in (South Africa)."

When asked if he would ever want to braai again after being at it for more than 28 hours, Scannell said: "We will braai here for another few hours now that the official stuff is out of the way."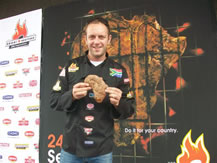 Scannell admits that there were moments when he felt dead tired. "But it never crossed my mind (to quit)," he added.

(enlarge photo)

Scannell said his record attempt was more than about meat on a grill. He believes the local tradition could be used to bridge the country's cultural divide.

"It's a call to action for 50 million South Africans to light fires next Friday 24 September. Braai for National Heritage Day, this is our national heritage. That's what me staying awake all night braaing is actually all about," he added with a laugh.

As per Guinness World Records guidelines, he had to have at least five different types of meat on the braai at all times. Just to be safe, he had six different types on the grill.

He was not allowed any direct help, although he was allowed an assistant to keep the fire going. He was only allowed five minute bathroom breaks every hour.

Also, all the meat had to be consumed. While not many may want a piece of braai meat early in the morning, students on their way home after a night out made sure that there were no leftovers.

Scannell decided to take on this challenge to raise awareness for Braai4Heritage and to "get 15 million people to braai on September 24" on Heritage Day, which is also known as Braai Day.


(enlarge photo)

Scannell, who started Braai4Hertiage in 2005, said that interest in Braai Day has grown exponentially. "I don't think the word snowball is appropriate when talking about (a) braai, but (Braai4Heritage) has snowballed and gathered speed."

The Braai4Heritage initiative aims to get South Africans to unite around braai fires on National Heritage Day and celebrate their common identity as citizens of this land.

The event, at Cape Town's Victoria and Alfred Waterfront , was sponsored by such brands as Karan Beef, Freddy Hirsch, Klipdrift, CADAC, Castle and Fry's.

Subscribe to our RSS News feed to receive updates. Related world records:
Largest pot of baked beans -Alabama Butterbean Festival

Largest goat cheese - world record set by Castel di Lama

Largest serving of fried chicken - world record set by KFC

Largest Pot of Beans - Macedonian Villagers

Largest serving of fried chicken - Indiana's Canoefest

Longest french fry - John Benbenek

Largest pork burger - Humboldt

Largest Hamburger - Chef Ted Reader

Largest Chicken Fried Steak - Cowtown Diner

Largest Meatball - Glen Oaks Community College

Most Expensive Seafood Hamper - The Fish Society

Most expensive Schnitzel - 'Golden Imperial Schnitzel'

Largest 'Jerusalem mixed grill'-Israeli chefs

Largest meatball - Nonni's Italian Eatery

Largest Green Chile Cheeseburger - Peppers Cafe

Largest Simultaneous Roast Meal - the East of England Agricultural Society

Longest sausage - world record set in Vinkovci

Largest gyros (doner kebab) - Sami Eid

Biggest barbecue - Paraguay

Longest Bulz - Turia

Longest beef sosatie - Arcelor Mittal

Largest hot dog - Monterrey chefs

Biggest burger - Mallie's Sports Grill & Bar

Largest meatball - Sony Pictures Animation

Most number of dishes on display - Kraft Foods

Most expensive Burger - Burger King

Most fish dinners - Polish heritage Festival

Biggest burger - Mallie's Sports Bar

Biggest barbecue - Uruguay

Largest balmos - Alba Prefecture

Largest serving of fried chicken - Qatar Food Company

Longest California Roll - UC Berkeley students

Largest Matzah Ball - Noah's Ark Original Deli

Largest jambalaya - Jambalaya Festival

Largest Scotch Egg - Lee Streeton

Largest plate of dates - Liwa Festival

Hottest curry - Vivek Singh

Longest Corn Barbecue - Sto.Tomas

Sunday, September 19, 2010