Largest serving of fried chicken-world record set by Qatar Food Company

[Feb 3]Villagio Mall, Qatar--Qatar Food Company (Americana Group), the franchisee owner of KFC, yesterday set a record for the largest serving of fried chicken at the Villagio Mall, after a giant basket was filled with 300kg of fried chicken.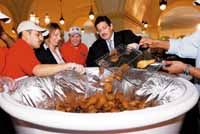 The total weight stood at 336kg with 36kg going to the basket.

Photo: KFC staff pouring fried chicken into a bowl. (ABDUL BASIT)

The KFC organising team set up a stage next to the food court where the basket, reaching 4-ft high, was placed on a digital scale.

The signature fried-chicken was prepared at six different locations and was tranported to the venue, according to an official.

"We wanted Doha to be in the record books and what better way to offer customers abundant supply of the product they love, while setting a record on the way as well," said Sherif al-Ashry, the official of Qatar Food Company.

A large number of curious visitors who had gathered to witness the feat were served the chicken afterwards. An Arabic-version of the Book of World Records 2008 was also distributed free.
[ Submit a world record ] [ World Record Certificate]
[ Book of World Records ] [ World Records Store ] [ Club ]



Fastest Jump Shooter in Billiards-Rocky Lane


Fastest race around the 'World'-Rohan Veal

Most 10 scores at Olympics-Nadia Comaneci

Fastest board breaking-record set by Mitch Ellis