Largest Christmas cake-world record set by Uday Samudra hotel

[Jan 17]KERALA, India--Uday Samudra (UDS),the most happening hotel in Kerala, created the new world record of the largest Christmas cake by making a cake of 30 ft length, two ft width and weighing 2,500 kgs!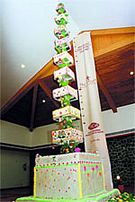 The cake was cut into 22,000 portions on Christmas Eve, December 24, 2007 at 8 pm.

The cake was distributed to poor homes and various charity organisations in the city.

The challenge was to beat the present record of Mercure Hotel in Bangkok, Thailand, which was of 27.6 feet height and was cut into 19,212 portions.



[ Submit a world record ] [ World Record Certificate]
[ Book of World Records ] [ World Records Store ] [ Club ]



Fastest Jump Shooter in Billiards-Rocky Lane


Largest miniature railroad-Miniatur Wunderland


Fastest race around the 'World'-Rohan Veal

Fastest board breaking-record set by Mitch Ellis