Largest Balmos: world record set by Alba Prefecture

[Oct.18] GARDA, Alba, Romania – The best cookers from Apuseni Mountains realized a balmosh of 500 kg (1102.31 lb), establishing a new world record for the Largest Balmos.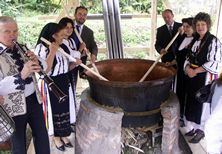 For making the world record balmos there were used 443 kg sour cream, made by the villagers from Garda and Arieseni, 4.43 kg salt, 35 kg white four, 55.4 kg cornmeal, for that after the boiling process to remain at least 500 kg.(enlarge photo)
For homogenization of the composition there were used huge wood spoons, made under the form of oars of 2.1 meters long. The world record balmos was after that distributed on free for consummation to all present, being made over 2,000 portions. (see video)

The balmos* is a traditional dish of the cattlemen from Carpati, made of wheat meal, corn flour and sour cream, which are boiled together for three hours.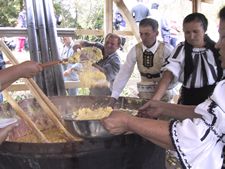 "It is for the first time when it is cooked such a balmos here. I don't believe that it was made somewhere else. We did make much, but into such big tin kettle we did not boil ever" declared Aurel Dobra, the team leader who was in charge of cooking.

For making the world's largest balmos the best cookers contributed from commune "moti" Garda, Arieseni, Scarisoara: Aurel Dobra, Livia Danciu, Elena Dobra, Maria Bogdan, Teodora Barna, Simona Stan, Aurelia Dig, Elena Lazea, Avram Matei, Elena Matei, Alina Miclea, Gheorghe Matei.

The big pot, of 850 kg (1873.92 lb.) where it was made the record was manually made by the gypsy experts in pots from Targu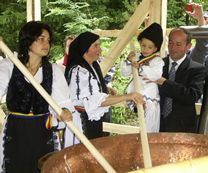 Carbunesti – Targu Jiu, the only ones who engaged to make such a masterpiece.
(enlarge photo)

They were leaded by an old gypsy artisan from Targu Jiu, Mr. Mihai Istrate.

It is supposed that the balmosh made traditionally offers a special energy, being considered a possible explication of potency and special sexual performances of the cattlemen from Apuseni who consumed regularly this product, the majority having 3 – 7 children.

In few than an hour, all balmos was consumed! "The balmos is very good. I came from Cluj on purpose to taste it and I do not regret it" explained T. Robert, one of the tourists who came to assist at establishing the record.

The event was organized by Prefecture Alba – Prefect Cosmin Covaciu and communes Garda de Sus – Mayor Marin Varciu, Arieseni – Mayor Marin Juri. Scarisoara – Mayor Cristian Costea.

World Record Balmos video


*Balmos, (sometimes spelled balmus,) is a mamaliga-like traditional Romanian dish, but is more elaborate. Unlike mamaliga (where the cornmeal is boiled in water) when making balmos, the cornmeal must be boiled in sheep milk.
Other ingredients, such as butter, sour cream, telemea (a type of feta cheese), cas, (a type of fresh curdled ewe cheese without whey, which is sometimes called "green cheese" in English), urda( (a type of curdled cheese obtained by boiling and curdling the whey left from cas,), etc., are added to the mixture at certain times during the cooking process.
It is a specialty dish of the Romanian shepherds of old, and nowadays very few people still know how to make a proper balmos.



Largest mattress: Dolidol Maroc


Most people making heart-shaped hand gestures: Carrefour Belgium