Longest Corn Barbecue-world record set by Sto.Tomas

[Feb 13]STO. TOMAS, Philippines--The longest corn barbecue measured 4,938 meters (16200.787 feet) and was created by the people of Dagupan City, Philippines on February 10, 2008, as part of the city's Bangus Festival.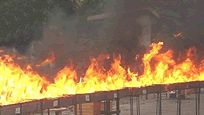 At 4:25 p.m., officials and guests headed by fifth district Rep. Mark Cojuangco led the ceremonial lighting of the 2,019 interconnected grills measuring 2.4 meters long each and where 117,840 corn ears were simultaneously grilled.

Villar said visitors including the media were amazed at the show of unity and discipline of residents of this smallest town in eastern Panga­sinan.

She said that everyone behaved well during the grilling to the extent that no one crossed the streets and happily stayed at the designated area marked by continuous plastic straw so as not to distract the participants and the team that documented the event.

The grills spanned 10 barangays from Rosales up to Alcala towns.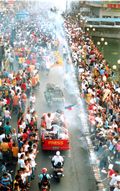 Some 20,000 people, including vacationing overseas Filipinos, lined up the whole stretch from the boundaries of Sto. Tomas with Rosales and Sto. Tomas with Alcala to witness the feat that will hopefully erase the existing world record of two kilometers put up last year by Hermocillo, Mexico.

(enlarge photo)

"Except for few minor blunders, everything else was perfectly done," Villar told The STAR.

Even the pilot of the helicopter who was with the documentary team said the lighting was a beautiful sight up in the sky.

There were 2,024 grill units used, all made of indigenous materials. Each grill unit was used to roast 60 ears of corn at one time or a total of 121,444 ears.

Roasting was done three times, so more than 300,000 corn ears were used in the activity.

There were 800 sacks of charcoalspread in all these grill units and poured with 1,050 liters of kerosene to make them burn easily.

Well-rehearsed and well-executed up to the last detail, there were 7,000 grillers, including the supervisors. Each of them wore green shirt and brown apron.

Spectators were one in saying that this is something that can be seen only in Sto. Tomas. They were all amazed to see the fire snake through the almost five-kilometer long grills.