Monday, July 20, 2009

Largest Green Chile Cheeseburger-world record set by Peppers Cafe

MESSILA, New Mexico, USA -- Peppers Cafe, owned by C.W."Buddy" Ritter, crafted a 10-inch diameter, 1-pound burger which includes a half-pound of cheese and three green chiles all between two specially made buns, setting the world record for the largest (commercially available) green chile cheeseburger.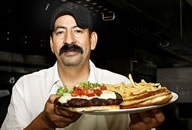 Photo: Sebastian Vacio, a line cook at Peppers Cafe inside of Double Eagle restaurant in Mesilla, N.M. presents the world's Largest Green Chile Cheeseburger. (AP Photo/Las Cruces Sun-News, Shari Vialpando)
(enlarge photo)

The general manager of Peppers Cafe, Jerry Harrell, noted for the record that some large cheeseburgers and hamburgers hold records in other parts of the U.S., but no such honor has ever gone to the green chile cheeseburger, which is served at hundreds of restaurants in New Mexico.

Ritter said he and cafe manager Jerry Harrell came up with the idea for the burger while discussing improving menu items. "It's so good we didn't know how to improve it, so the only thing I knew to do was make it bigger," Ritter said.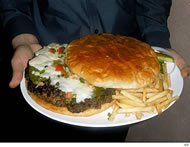 Photo: The $18.25 burger consists of hand-ground beef from the Double Eagle's (its sister restaurant) aging room, topped with three roasted and peeled green chiles, pico de gallo salsa, a half-pound of Monterey Jack and sharp cheddar cheeses, and is served on a yeast roll bun baked at the Lujan Bakery in Las Cruces. (enlarge photo)

"It's a part of life here and if a burger place doesn't serve green chile cheeseburgers they are going to be swamped for requests for it until they do," said Jerry Wright, New Mexico Restaurant Association president and Albuquerque restaurant owner.

The Peppers Cafe cafe operates in the Double Eagle Restaurant

New Mexico's Mesilla Valley is home to two other Guinness world records involving chile. The NuMex Big Jim, developed in Las Cruces, holds the record for longest chile pepper and Las Cruces restaurant owner Roberto Estrada created the biggest red chile enchilada.

Related world records:
Largest Cupcake-world record set by Cakes.com

Largest Kunafa pastry-Muhanned al-Rabbe sets world record

Largest Canned Food Structure-world record set in Wellington

Longest BLT sandwich-Bradley County Chamber of Commerce sets world record

Largest slab of chocolate fudge-Lansing Community College sets world record

Largest jambalaya-world record set by Jambalaya Festival

Largest lobster roll-world record set by Portland

Largest Peasant Omelette-world record set by Master Chef Stefan Bercea

Largest cream tea scone-world record set by Anne Tattersall

Largest Dessert Buffet-world record set by the Emirates Culinary Guild

Tallest pancake stack-world record set by Sean McGinlay and Natalie King

Monday, July 20, 2009