Most expensive Burger-world record set by Burger King

[June 19] LONDON, UK--Burger King's £95 ($185 / €120) sandwich, named simply The Burger - flame grilled Wagyu Beef, topped with white truffles in an Iranian saffron and truffle bun - sets the world record for the most expensive burger.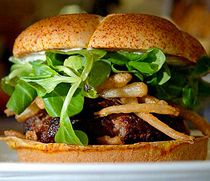 Photo:After six months in development, Burger King has launched "The Burger," a limited edition hamburger selling for $185; Photo Courtesy Burger King
(enlarge photo)

Simply named The Burger, it combines Japanese beef with white truffles, Cristal champagne onion straws, Pata Negra ham drizzled in Modena balsamic vinegar, organic white wine and shallot infused mayonnaise and pink Himalayan rock salt.

The burger, the size and looks of a regular whopper, is made out of ingredients from seven countries, from Japan to France.

Customers can buy the sandwich at Burger King's Gloucester Road branch in London. It can be ordered through a Burger King hotline from Thursday.

David Kisilevsky, vice president of marketing at the fast food chain, said: "The Burger is an extension of Burger King's quality burger menu and is aimed at burger aficionados, looking for the ultimate burger taste experience."

"It reflects our ongoing commitment to producing the best quality burgers for a range of different pockets and reinforces our quality credentials."

The secret to its strong taste? "Its massaged Japanese Wagyu beef," Dowding said.

By lunchtime on the first day of The Burger's unveiling, eight had been purchased, said Chef Mark Dowding, the director of new product development and innovation for the fast food chain. Dowding said he hoped that more than 100 would be sold by the end of the day.

All proceeds from the sale of the burger will be donated to Help a London Child charity, which helps children experiencing abuse and poverty.

The Burger beat the previous world record for the most expensive burger, held by Daniel Boulud for the DB Double Truffle Burger in New York, (1994) priced at $130.