Monday, February 13, 2012

Largest collection of toy soldiers: Spanish Museum sets world record (HD Video)

VALENCIA, Spain--The Museo de los Soldaditos de Plomo in Valencia, Spain holds a collection of more than 85,000 toy soldiers and miniature figures on display in intricate dioramas and displays, and more than an million more in storage - setting the new world record for the largest collection of toy soldiers and miniature figures, according to World Record Academy: www.worldrecordacademy.com/.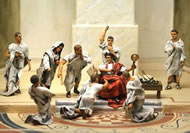 Photo: Brutus about to murder Julius Caesar. All Photos: Derek Workman
(enlarge photo)

The Guinness world record for the Largest (PRIVATE) collection of toy soldiers was set by Sergey Valentinovich Spasov (Russia), who has 661 different toy soldiers, as of 3 August 2010.

Guinness World Records also recognized the world record for the Largest collection of model trams, set by Geoff Price (UK), who has 830 model trams, as of April 2011.

Museum director Alejandro Noguera told Smithsonian's Derek Workman (paid a visit) that in 1941, his father received a set of toy Spanish soldiers from his father for his second birthday. That was the beginning of a vast private collection.

"I don't remember a holiday as a boy that didn't involve searching through shops and flea markets looking for toy soldiers," says Noguera.

"But as well as my father's collection being a hobby, he also used it as instruction for myself and my brother and sister."

"It was great fun," he says, "and we used Second World War armies, with rules about diplomacy and economy, but it was also my father's way to teach us about business, because if you know how to organize an army, you know how to organize a business, a library, almost anything."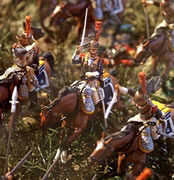 Photo: British soldiers battle the French.
(enlarge photo)

He says the original idea for the museum was simply to display his father's collection, but as he became more involved in the research behind both the making of the miniatures themselves and the stories they represented, he decided to take a different approach, thinking of a historic scene he'd like to present and then buying or commissioning the figures to create it.

"My father thought that everything should be put on display, but apart from that being physically impossible because of the size of the collection, I thought it would be better to leave much more open space, and present the collection in a series of dioramas and large spectacular scenes, particularly the major battles."

Related world records:
Most completed Lego sets in a private collection: Capt. Kyle Ugone sets world record

Largest collection of pull tabs from aluminum cans: Todd Mannebach sets world record

Largest collection of Converse sneakers: Penny Gold

Largest collection of miniature shoes: K. B. Shivashankar

Largest collection of beaver-related memorabilia: Betty Davis (Video)

Largest collection of autographed baseballs: Dennis Schrader (Video)

Largest gum collection: Sarah Maughan

Largest Collection of Board Games: Jeff Bauspies

Largest collection of flamingos: Sherry Knight (Video)

Biggest comic book collection: Brett Chilman

Largest collection of fire patches: Bob Brooks (Video)

Largest instant camera collection: Wong Ting Man (HD Video)

Largest Collection of Coca-Cola Memorabilia: The Schmidt Museum (HD Video)

Largest love doll collection: Bob Gibbins (Video)

Largest collection of sick bags: Niek Vermeulen

Largest Toy Collection: 'Jerni Collection' by Jerry Greene

Largest collection of milk bottles: Paul Luke

Largest collection of Beatles memorabilia: Rodolfo Vazquez

Largest Collection of Clocks: Bill Williams

Largest collection of unopened Coca-Cola bottles: John Burley

Largest collection of thermometers: Richard T Porter

Largest collection of salt-and-pepper shakers: Dorena Young

Largest collection of tea caddies: Graham Brooks

Largest Rubber Duck Collection: Charlotte Lee

Largest Easter Egg Collection: Easter Egg Museum in Poland

Largest collection of bunny memorabilia: The Bunny Museum

Largest collection of crab memorabilia: Dr Darren Martin

Largest toothpaste collection: Dr. Val Kolpakov

Largest collection of banana related items: Ken Bannister

Largest Yo-Yo collection: Dr. John Meisenheimer

Largest Signed Game-Used Jersey Card: Panini America

Largest Pokémon Collection: Lisa Courtney

Largest collection of Simpsons memorabilia: Glynne Williams

Largest collection of miniature chairs: Barbara Hartsfield

Largest collection of Pooh & Friends memorabilia: Deb Hoffmann

Largest collection of cow-related items: Denise Tubangui

Largest movie camera collection: Richard LaRiviere

Largest collection of trolls: Sophie Marie Cross

Highest auction price for a doll: Marque

Largest Napkin collection: Marilyn Boyle

Largest privately owned auto collection: LeMay Museum

Largest Barbie doll collection: Bettina Dorfmann

Most expensive letter from Titanic: Spink Smythe

Largest Mickey Mouse collection: Janet Esteves

Largest Business Card collection: Brandon Rayner

Largest collection of Santa Claus memorabilia: Jean Guy Laquerre

Largest private collection of movie cameras: Dimitris Pistiolas

Largest collection of handmade aeroplanes: John Kalusa

Largest collection of ladybug-related items: Sheri Gartner

Smallest Museum: Edgar's Closet Museum

Monday, February 13, 2012