Saturday, March 27, 2010

Largest collection of bunny memorabilia - The Bunny Museum sets world record

PASADENA, Calif., USA -- Steve Lubanski and Candace Frazee live in The Bunny Museum, where they have 24,632 bunny-related items which sets the world record for the Largest collection of bunny memorabilia.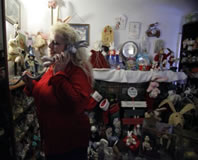 Photo: Candace Frazee, co-owner and curator of the Bunny Museum, who only dresses in red, talks on the talking on the Bugs Bunny telephone at the museum in Pasadena. Photo by Jae C. Hong / Associated Press
(enlarge photo)

The couple are surrounded by rabbits, from wallpaper to wind chimes, phones to faucets and sheets to screen savers. Thousands of items are in storage because there is no space left.

Guinness World Records dubbed them the largest in 1999 when there were only 8,437 pieces in the house.

Frazee counts and catalogs the collection and keeps track of visitors — hovering around 16,000. The most asked-after item in the museum is an Elvis Parsley pitcher, Frazee said.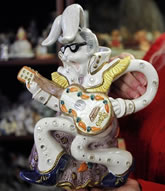 Photo: "Elvis Parsley" - not Elvis Presley - is the most popular bunny in the museum (for visitors) because he is recognized by all cultures around the world. Not everyone knows who Peter Rabbit, Roger Rabbit, and Thumper are. But, everyone knows who Elvis is! Photo by Jae C. Hong / Associated Press (enlarge photo)

The museum is home to Bugs Bunny, Lola Bunny, Peter Cottontail, NesQuik Rabbit, Peter Rabbit, Brer Rabbit, White Rabbit and March Hare (from Alice in Wonderland), Roger Rabbit, Trix Rabbit, Rabbit (from Winnie the Pooh), Thumper (from Bambi), Uncle Wiggily, Energizer Bunny, Miffy, and Mashimaro, to name a few.

Lubanski, 52, and Frazee, 53, met at a singles seminar in 1992. She called him "Honey Bunny" and he gave her a stuffed rabbit for Valentine's Day.

In the beginning, they gave each other bunny gifts on holidays. Then every day. Sometimes dozens a day. At the reception to their 1994 wedding, he dressed in a bunny costume; they did the bunny hop and ate carrot cake.

In 1998, they opened the museum, calling it the "hoppiest place in the world." Admission is free, by appointment only.

On the Net:
The Bunny Museum: www.thebunnymuseum.com

The Bunny Museum on Facebook

The couple have seven real bunnies and continue to expand their collection at antique, novelty and out-of-town stores. Even when they go on vacation, there are bunny influences - like the Rabbit Ridge Winery in Paso Robles or the Jackrabbit Trading Post in Joseph City, Ariz.

This time of year is like Christmas because Easter makes stores nearly as bunny happy as they are.

The most asked question? "How do you dust?"
She used to do it all herself but finally hired a housekeeper to help two days a week. "But the truth is," she jokes, "we don't mind dust bunnies at the museum."

Subscribe to our free RSS News feed to receive updates.

Related world records: Collection world records
Largest collection of crab memorabilia - Dr Darren Martin sets world record

Largest toothpaste collection - world record set by Dr. Val Kolpakov

Largest collection of banana related items - Ken Bannister sets world record

Largest Yo-Yo collection - world record set by Dr. John Meisenheimer

Largest Signed Game-Used Jersey Card - Panini America sets world record

Largest Pokémon Collection - world record set by Lisa Courtney

Saturday, March 27, 2010