Largest collection of ladybug-related items -world record set by Sheri Gartner

[April 12]LAKEWOOD, IL, USA--Sheri Gartner has collected 2,110* ladybug-related items during the past 41 years and set the world record for largest collection of ladybug-related items.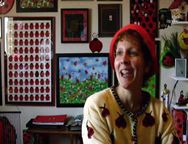 Photo: It took Lakewood resident Sheri Gartner 41 years to set the world record for the most ladybug-related items in a single collection. Photo by Christopher Hankins/ Daily Herald

(enlarge photo)

"It is slam-dunk for the good old USA," said Gartner, a substitute teacher for school districts 47, 155 and 158.

Her bugs trounce the previous record of about 900 items, which was held by someone in Germany.

After touring the Turning Point emergency shelter in Woodstock, she was touched and thinks of her efforts as something for the "ladies in our community who sometimes have to have hard shells," she said.

Her project, described as "fun and uplifting," raised roughly $2,010 through pledges, said Jane Farmer, the shelter's executive director.

That amount is nearly enough to run the 27-year-old shelter for two full days, she said -- it costs $1,125 for a full day of operations.

Gartner collected pledges from 30 friends and volunteers who helped her to count, catalog and document her collection. She also tallied up the items before two witnesses.

"It's pretty exciting," she said about the ladybug title. "It is an accomplishment just to have gone through the process, and I had so much help. "I could not have done it without all those volunteers."

Among the items they counted: a ladybug bathed in Swarovski crystals, a ladybug lipstick holder and her ladybug Christmas tree ornaments.

"It's kind of neat, but remember it's all stuff," she said. "People are more important than things."

To make a donation on behalf of Gartner's ladybug collection, call Turning Point at 815-338-8081.

Online donations are available using the DONATE NOW Through Network for Good. Type "LADYBUG" in the DESIGNATION section

*she has 60 more ladybug items than she did when she sent her packet to Guinness in November 2007. WRA has considered the latest figure.