Sunday, August 15, 2010


Largest collection of thermometers - world record set by Richard T Porter

ONSET, MA, USA -- Richard T. Porter, aka 'The Thermometer Man', an 83-year-old retired schoolteacher who runs the Porter Thermometer Museum, has collected 5,200 thermometers since 1978 , setting the world record for the Largest collection of thermometers.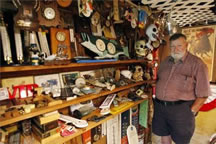 Photo: Dick Porter, a retired schoolteacher, is known around Onset as "The Thermometer Man." Photo Steve Haines (enlarge photo)

He was in Ripley's (Believe It or Not) five times and Guinness World Records has recognized his collection when he had 'only' 4,580 pieces in his collection.

They're not all housed in Onset anymore, though: Several years ago, Porter sold his prized collection to Joel N. Myers, the founder and president of AccuWeather. Thousands of the thermometers went to State College, Pa., where AccuWeather is headquartered.

But there's still plenty left to see in Porter's museum. Hundreds of thermometers are on display in his basement — some on loan from their new owner, some collected by Porter since the sale — and his quirky little museum still operates under the same old motto it's always had: always open, always free.
Porter Thermometer Museum
Address
49 Zarahemla Rd, Onset, MA
Directions
Hwy 25 exit 1. South onto Hwy 28/US 6, then turn south onto Depot St. Bear left onto Onset Ave. Drive 3/4 mile, then left onto Zarahemla Rd. [Map]
Admission
Free.
Hours
Call first. (Call to verify)
Phone
508-295-5504
Many of Porter's thermometers were made as promotional items. There are thermometers advertising local businesses (like the bright yellow thermometer for Boston Banana Co. of Chelsea); an Alaskan radio station (the KIYU 910 AM thermometer from Galena goes all the way down to 100 degrees below zero); soft drinks (a thermometer shaped like a giant pocket watch says Schweppes Tonic is "Curiously Refreshing in Any Weather''); and an array of branded products (Tums, Jell-O, Marlboro cigarettes).

The devices come from each of the United States, and all seven continents. He said the idea for the museum came from his daughter, Janet Minkle, who died of a brain tumor in 1990 at age 37. She had urged him to do something with his thermometers.

And so, in the fall of 1993, Porter opened up his home to the public so they could see his unique collection.

His massive collection has been featured in travel guides, newspapers, magazines, books, and TV shows. By his count, he's given 800 lectures across the country, and made 70 television appearances.

Subscribe to our RSS News feed to receive updates.

Related world records:
Largest collection of salt-and-pepper shakers - Dorena Young

Largest collection of tea caddies - Graham Brooks

Largest Rubber Duck Collection - Charlotte Lee

Largest Easter Egg Collection - Easter Egg Museum in Poland

Largest collection of bunny memorabilia - The Bunny Museum

Largest collection of crab memorabilia - Dr Darren Martin

Largest toothpaste collection - Dr. Val Kolpakov

Largest collection of banana related items - Ken Bannister

Largest Yo-Yo collection - Dr. John Meisenheimer

Largest Signed Game-Used Jersey Card - Panini America

Largest Pokémon Collection - Lisa Courtney

Largest collection of Simpsons memorabilia - Glynne Williams

Largest collection of miniature chairs - Barbara Hartsfield

Largest collection of cow-related items - Denise Tubangui

Largest movie camera collection - Richard LaRiviere

Largest collection of trolls - Sophie Marie Cross

Sunday, August 15, 2010